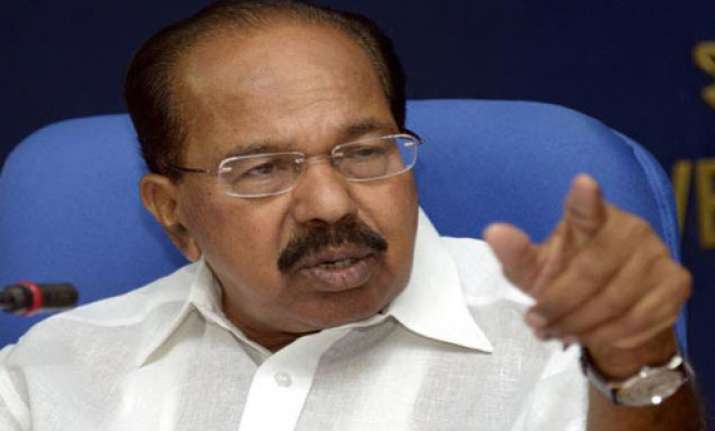 Bangalore: Stressing the need to step up production of fuel in the country, Petroleum and Natural Gas Minister Veerappa Moily today said India should become energy independent by 2030.
"Expert Vijay Kelkar is preparing a road map. According to it, by 2020 our imports will go down by 50 per cent, by 2025 it should go down by 75 per cent and by 2030 our country should become energy independent and it is possible," he said.
The minister spoke here at an event to launch 5 kg non-subsidised cylinder and implementation of inter-company LPG portability scheme here.
"We need to produce, either you produce oil or perish; ....only when we start producing oil and natural gas in our own country, we will have the right to have a say on its
prices," he added.
Stating that we have oil and natural gas available in the country and there is only need for us to makeup our mind to explore it, Moily said "first we must mine your mind, only then you can mine the oil; but our mindset is such that we are suspicious about every initiative."
He said: "our refineries are best and responding in a big way." "There is availability of oil and natural gas in Barmer of Rajasthan, we are setting up a refinery of 9 million metric tone capacity with the help of Hindustan Petroleum."
Earlier, he inaugurated two new consumer initiatives which include 5 kg LPG cylinders at market price with minimal documentation through company owned retail outlets (petrol stations).
"The initiative allows sale of 5 kg cylinders at market price with merely any proof of identity through company owned retail outlets to attend to demand of consumers who don't have proper proof of address," Moily  said.
According to ministry officials- sale of 5 kg cylinders will be done (equipment + product) at non domestic rates with or without regulator for the first time by charging Rs 1,000 plus applicable taxes for the cylinder and Rs 250 plus applicable taxes for regulator.
The cost of product and refills that is cost of LPG would be as per non-domestic rates applicable in the market, officials said.
Stating that the scheme was being launched in Kolkata, Chennai, Mumbai and Bangalore through select retail outlets, the officials said, "The total number of outlets covered would be 11 outlets to begin with and a few more are expected to be added soon."
Similarly another initiative that was launched by Moily today is inter company LPG portability scheme for consumers.
"Under this scheme, a consumer can opt for the distributor of his choice within a cluster of LPG distributors in the vicinity. The option is to be registered electronically on the website of oil manufacturing company to which the consumer is presently attached," he said.
"This will bring great relief to consumers who are unhappy with their LPG distributor or want to move to distributor closer to his home," he added.
Officials said: This initiative will usher in improvement in consumer service by distributors as it will bring in competition in cluster of distributors and bring choice to consumers who want to change their LPG distributor.
"This scheme covers 24 cities across the country," they added.
Moily also said that department will be introducing new set of rules under which any distributor according to which once booked online with in three days cylinders should be made available, if not some action will be taken against them.