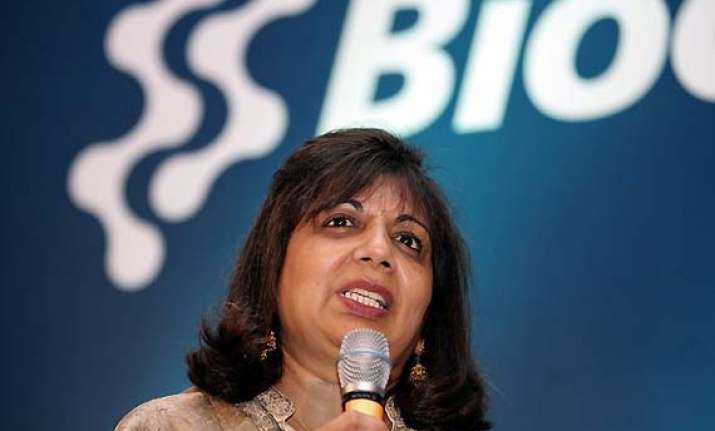 New Delhi, Dec 22: India needs well-balanced growth in which the service, industrial and agricultural sectors reinforce each other as the present economic model was skewed with insufficient employment opportunities to the poor, Kiran Mazumdar-Shaw, head of biotechnology enterprise Biocon, said here Saturday.
Delivering the 25th Intelligence Bureau centenary endowment lecture on "The Role of Biotechnology in Inclusive Economic Development", Mazumdar-Shaw said agriculture accounts for about 52 percent of employment but contributes 14 per cent to the Gross Domestic Product (GDP).
"Today we have a skewed economic model wherein India's service industry accounts for nearly 58 percent of the country's GDP while the industrial and agricultural sectors contribute 28 percent and 14 percent respectively. The sectoral structure of India's growth has provided insufficient employment opportunities to the poor," she said.
She said the country was passing through turbulent and transformational times as it was transitioning from rural, agrarian economy to a urban, modern economy.
Kiran Mazumdar-Shaw said aspirations were burning across the sections of society fueled by urbanisation and access to technology.
"When these are not realised, resentment stokes the yearnings of the disadvantaged. We must ensure that the benefits of growth reach every citizen of India. If inequity reigns and hopes die, our efforts to create a prosperous India will not bear fruit," she said.
The technocrat, who has been awarded Padma Bhushan, said economy was facing strain due to external and internal factors and were reflective of pain enveloping the country.
She said basic needs of the majority of Indian population "remain unsatisfied with unacceptable levels of hunger, illiteracy and jobless existence, creating a vicious cycle of poverty and despair."
Mazumdar-Shaw said the country should have a clear roadmap of "where we want our economy to be in 2050."
She said bio-technology can usher in a second green revolution with unprecedented opportunities to ensure food security along with the economic well-being of the farmer.
The lecture was attended by serving and retired officers of the Intelligence Bureau (IB). Union Minister for New and Renewable Energy Farooq Abdullah, Minister of State for Personnel V. Narayanasamy, Minister of State for Human Resource Development Shashi Tharoor and Minister of State for Parliamentary Affairs Rajeev Shukla were also present.
Home Minister Sushilkumar Shinde could not attend the function as he was caught up in meetings over protests by people against gang-rape and torture of a 23-year-old woman in a moving bus in the capital Sunday.
IB chief Nehchal Sandhu said that the year was special for the organisation as it was 125th year of its existence.
He said the IB was alert to the needs of security and was deepening its faith among all sections of community.
Mazumdar-Shaw also drew attention to the government delivery system being mired in inefficiency.
She said there was no dearth of schemes to tackle challenges but reasons for failure range from corruption, lack of political and bureaucratic will to execute and poor conceptualisation.
"As a result, most of our programmes, even if well-intentioned, have one fundamental shortcoming: The governance mechanism to deliver these schemes is m ired in inefficiency and unaccountability," she said.
She said India had failed to create significant manufacturing scale and depth and should reboot its manufacturing sector by pursuing a strategy of scale based on technology driven manufacturing.
"Biotechnology and more explicitly fermentation technology can help boost India's manufacturing sector in this manner," she said.