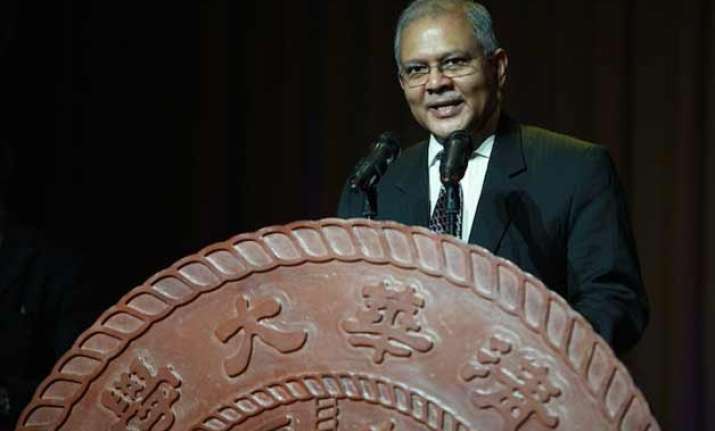 Beijing: India and China are likely to sign over 20 business agreements during Prime Minister Narendra Modi's three-day visit, the Indian envoy said today, emphasising that both sides are trying to look for synergies in their respective agendas.
"India and China agreed on a close developmental partnership during Chinese President Xi Jinping's visit to India and Modi's visit will delineate on how to take forward the bilateral economic engagement," India's Ambassador to China, Ashok K Kantha said.
"We expect more than 20 business agreements to be signed in Shanghai during the visit," the Indian envoy told state-run CCTV on the eve of Modi's trip during which the Prime Minister would visit Xi'an, Beijing and Shanghai.  
The Indian envoy, however, did not elaborate on the business agreements likely to be signed.  Several others areas ranging from cooperation between provinces, cities, skill development, disaster management, smart cities and outer space will see concrete progress which will take forward the relations in a "fairly comprehensive manner", Kantha said.
On India's participation in China's mega Silk Road projects for which Xi has set up USD 40 billion fund, he said, "Both India and China are attaching great importance to connectivity. We both have respective connectivity agendas.  Our approach is to look for synergies in our respective agendas."
China has proposed a maze of Silk Road projects which included the revival of ancient Silk Road connecting China to Europe through Central Asia, Bangladesh-China-India-Myanmar (BCIM) Economic Corridor, Pakistan-China Economic Corridor and 21st century Maritime Silk Road (MSR). 
India is taking part in BCIM initiative but is silent on MSR over security concerns in the Indian Ocean.  China is keen that India backs its initiatives to avoid friction and offered to link its projects with that of India to address New Delhi's security concerns.  The issue was expected to figure in Xi's talks with Modi in X'ian tomorrow as well as his meeting with Premier Li Keqiang in Beijing on May 15.
Kantha said the two countries are working in areas like Asia Investment Infrastructure Bank (AIIB) and BCIM.  "We look for synergies and look for shared interests and look for areas of partnership and collaboration which will help both of us," Kantha said.