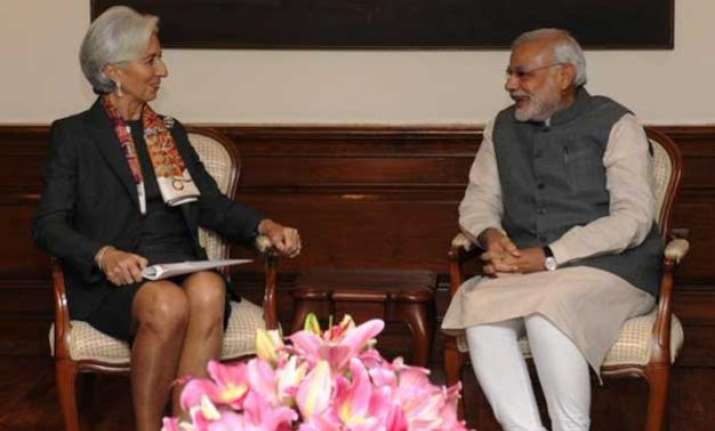 New Delhi: Modi government may be facing a tough time in convincing opposition parties in parliament to extend support for the passage of the crucial Goods and services Tax (GST) Bill, it has received support from international institutions like International Monetary Fund(IMF).
Christine Lagarde, IMF Managing Director, has openly expressed her support for the GST Bill by saying that it will help India create more jobs, increase revenue as well as promote domestic manufacturing. She exhorted Indian leaders and businessmen to make 'Make in India' a reality.
 "The implementation of GST will help India create jobs and help in raising revenue to finance health, education etc," she said in a recorded video message at an interactive session of the industry with the Finance Minister on GST organised in the national capital on Wednesday.
The IMF chief also expressed her readiness to extend technical support for implementation of the comprehensive indirect tax reform, which will subsume excise and sales taxes.
"IMF is ready to lend support and provide technical assistance for GST implementation," Lagarde said in her message to Indian Finance Minister and industry leaders.
Read Also: History will judge us poorly for not allowing Parliament to function: Arun Jaitley on GST Bill
It's an open secret that Indian Industry is vigorously pushing for the early passage and implementation of the GST Bill but what is interesting is that small traders,  who feel harassed by multiple tax inspectors, are now threatening to take to streets if the opposition parties continue to block the passage of the bill in the parliament.
"As on today, more than 24 taxes are bothering traders in India. Officers of  different taxes come to us on a daily basis and take 'nazrana'. One tax will definitely help us. We need to tell opposition that what they are doing is not in our interest. Traders of the country will not tolerate tamasha on GST and We will be forced to come out on streets if they continue to block the bill," said an agitated Pravin Khandelwal who is National Secretary of  Confederation of All India Traders (CAIT).
 
Industry platforms like CII, FICCI, ASSOCHAM, PHD Chamber are already clamouring for early implementation of GST Bill. They are asking political parties to bury their differences and evolve a consensus on GST Bill as it is expected to add an additional 1.5-2% growth in the GDP.
With the Winter Session of Parliament coming to an end on December 23, the government now hopes to push the GST Bill afresh in the Budget session.
In view of PM Modi's 'chai pe charcha' with Sonia Gandhi and Manmohan Singh  coming as a cropper and  Winter session turning out to be a  'complete washout', it remains to be seen what new strategy the  govt adopts for the passage of GST Bill in the Budget Session.