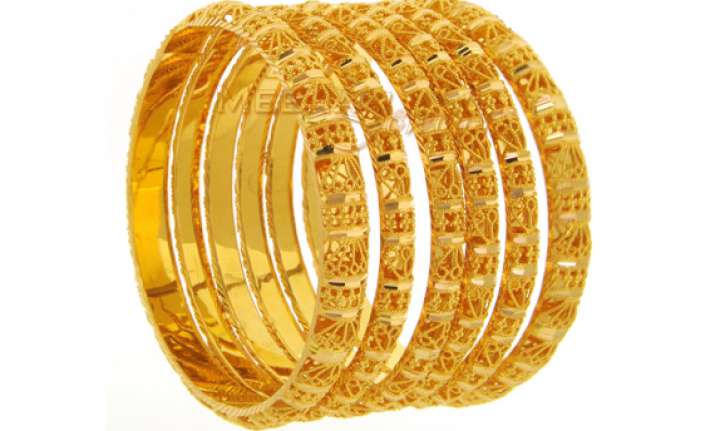 New Delhi, Jun 6: Gold today hit a fresh all-time high by adding Rs 200 (rpt) Rs 200 to Rs 30,400 per 10 grams on brisk buying by stockists triggered by a firming global trend.
The precious metal had hit an all time high of Rs 30,300 on Saturday.
Silver followed suit, and shot up by Rs 1,200 to Rs 55,500 per kg on increased offtake by industrial units and coin makers.
Traders said the trading sentiment bolstered as gold rose to a four-week high in London on weaker dollar after officials from the world's leading economies said they will collaborate to respond to Europe's crisis, boosting demand for metal as an alternate investment.
In London, gold rose by 1.3 per cent to USD 1,637.40 an ounce, the highest since May 8 and silver by 2.7 per cent to 29.31 dollar an ounce, the highest since May 10.  Besides, stockists buying ahead of the marriage season from June 16 further fuelled the uptrend.
On the domestic front, gold of 99.9 and 99.5 per cent purity rose by Rs 200 (rpt) Rs 200 each to set an all-time high levels of Rs 30,400 and Rs 30,200 per 10 grams, respectively. Sovereigns rose by Rs 150 to Rs 24,250 per piece of eight grams.
Similarly, silver ready spurted by Rs 1,200 to Rs 55,500 per kg and weekly-based delivery by Rs 1,090 to Rs 55,170 per kg. Silver coins also jumped up by Rs 3,000 to Rs 67,000 for buying and Rs 68,000 for selling of 100 pieces.