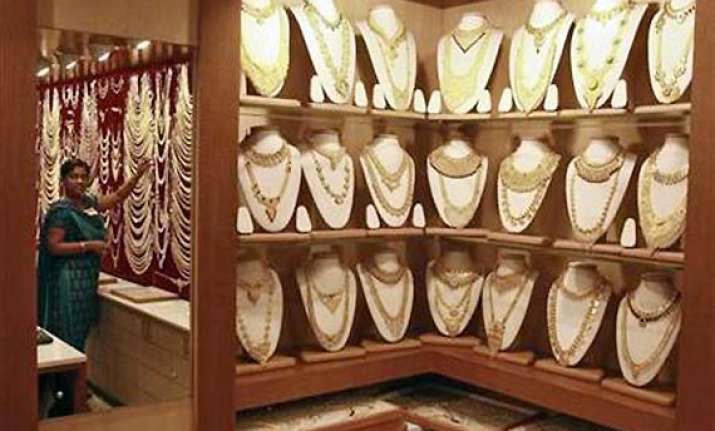 New Delhi, Nov 24: Gold prices remained near the all-time record as rates rose by Rs 290 to Rs 32,850 per 10 grams on brisk buying by stockists and retailers for the ongoing wedding season amid a firming global trend.
The price rose by Rs 290 in the national capital. Gold prices in Mumbai increased by Rs 190 to Rs 32,340 and in Kolkata the rates rose by Rs 220 to Rs 32,830. The prices of the precious metal rose up by Rs 410 to Rs 32,730 in Chennai.
Gold prices had touched a record of Rs 32,900 per ten grams on September 14 in the national capital.
"Gold rates in the international market are firming up as most central banks have increased their exposure to gold.
Besides, the reports of further easing of monetary policy in the EU and other countries is supporting gold rally," SMC Comtrade Chairman and Managing Director D K Aggarwal said.
Going forward, domestic gold rates are expected to remain firm and may even touch a new record of Rs 34,500 per ten gram in the next 2-3 months, he said.
In New York, gold rose by 1.3 per cent to USD 1,755 an ounce as weak dollar spurred demand for the precious metals.
Silver jumped up by 2.3 per cent to USD 34.20 an ounce.
The dollar fell to a three-week low against a basket of major currencies as data showed German business confidence rose in November and speculation mounted that Europe's policy makers will agree to keep aid flowing to Greece.
In the national capital, gold of 99.9 and 99.5 per cent purity zoomed up by Rs 290 each to Rs 32,850 and Rs 32,650 per 10 grams, respectively, extending two days gains of Rs 160.
Sovereigns followed suit and added Rs 50 to Rs 25,650 per piece of eight grams in the capital.
In line with a general firming trend, silver ready advanced by Rs 500 to Rs 63,000 per kg and weekly-based delivery surged by Rs 1120 to Rs 63,520 per kg. The white metal had gained Rs 500 in the previous two sessions.
Silver coins also flared up by Rs 1,000 to Rs 81,000 for buying and Rs 82,000 for selling (of 100 pieces) on account of rising wedding season demand.