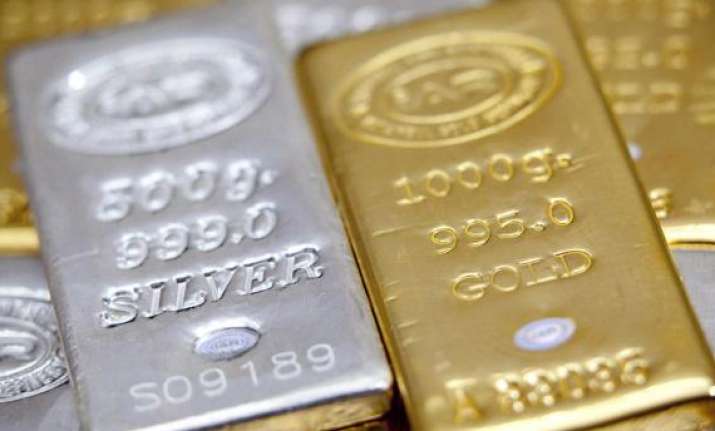 New Delhi, Nov 18: Both the precious metals, gold and silver, extended losses for the second straight session today, on heavy selling by stockists amid steep fall in their prices in global markets.

While gold tumbled by Rs 265 to Rs 29,090 per 10 grams, silver dropped by a whopping Rs 2,425 to Rs 55,075 per kg on reduced offtake by jewellers and industrial users. Poor demand at existing higher levels further dampened the trading sentiment, traders said.

Gold fell the most in more than seven weeks in global markets, as commodities and equities slumped after ratings agency Fitch said that US banks face a "serious risk" from Europe's debt woes.

They said poor demand at existing higher levels was another dampening factor for the metal. Gold in global markets, which normally sets the price trend on the domestic front, plunged by USD 42.30 to USD 1,719.90 an ounce and silver by 5.91 per cent to USD 31.81 an ounce in New York last evening.

On the domestic front, gold of 99.9 and 99.5 per cent purity plunged by Rs 265 each to Rs 29,090 and Rs 28,950 per 10 grams, respectively. It had lost Rs 85 yesterday. However, sovereigns remained flat at Rs 23,300 per piece of eight grams in restricted buying.

In a similar fashion, silver ready dropped by Rs 2,425 to Rs 55,075 per kg and weekly-based delivery by Rs 2,730 to Rs 54,475 per kg. Silver coins also tumbled by Rs 3,000 to Rs 62,000 for buying and Rs 63,000 for selling of 100 pieces.