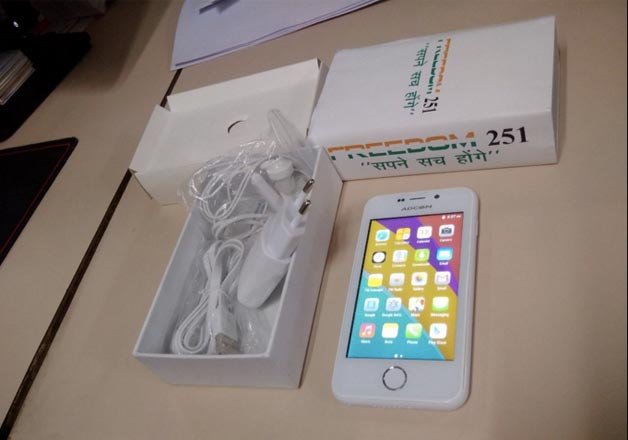 New Delhi: The online booking of Freedom 251, notable the world's cheapest smartphone, has ended on Saturday, a little before its intended date of February 21 as declared by the Noida-based company Ringing Bells.
"Till 11am on Saturday, a total of 7.35 crore people have booked the Rs 251 smartphone. We had to shut down online bookings because we are prepared to deliver only this much handsets. However, only 30,000 people have paid the amount, including shipping charges, so far. Rest of the buyers will pay once the phone is delivered," told Mohit Kumar Goel, founder of the company to a leading newspaper.
The company expects to start the smartphone's delivery by April onwards and plans to deliver 7.35 crore phones by this year's end.
A breakdown of the booking actions revealed that the company received its maximum orders of 3.7 crore handsets on February 18, first day of the phone's sale, itself, claimed Ringing Bells' officials.
It received 2.8 crore orders on the second day and 85 lakhs on Saturday, company officials added.
As the Rs. 251 smartphone's website remained ridden with technical issues, prospective buyers showed agitation over being unable to book the phone well in time.
"Why did the website not run smoothly since the bookings opened?," questioned Vipin Chauhan, a prospective buyer who failed to place an order online.
Besides the faulty website, Freedom 251 manufacturers have also managed to rope in much inquiry from various political, financial and market-regulatory sectors.  
On Friday, the Ringing Bells Company was visited by a three member team from the income-tax department who had sought to question the employees of the sector-63 office.
This was in relation to a remark made by BJP lawmaker Kirti Somaiya accusing the company of being a 'ponzi bogus company scam'.
Somaiya, in a previous report, mentioned that he has taken this matter up with a list of regulatory bodies such as the telecom ministry, telecom regulator, consumer ministry, market regulatory Sebi, corporate ministry, finance ministry and the Reserve Bank of India (RBI) to look deeper into the smartphone company's offering.  
The BJP MP has also asked the Uttar Pradesh government to probe further into Freedom 251's intentions in the telecom industry.
Goel claimed that his intention behind all the fiasco is to enable the poor section of the Indian society with an affordable smartphone.