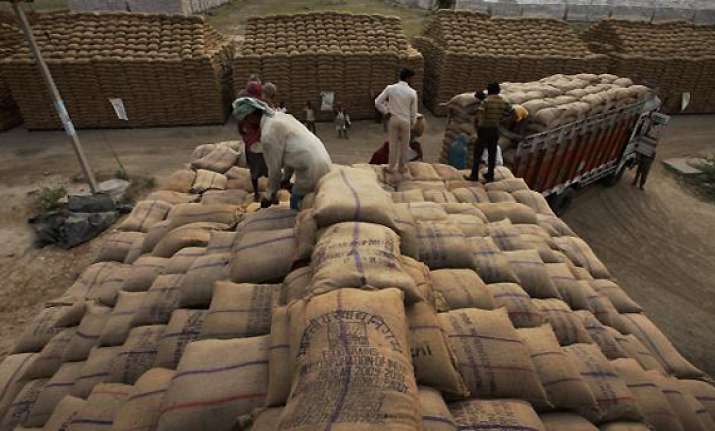 New Delhi, Mar 21:
Sitting on surplus food grain stock, the government today said it plans to roll out the proposed National Food Security Bill by this year-end. The Bill, which seeks to provide legal entitlement over subsidised food grain to 63.5 per cent of the country's population, is being vetted by the Parliamentary Standing Committee.
"We intend to implement the Food Security Bill by the end of December, 2012," Food Minister K V Thomas told reporters on the sidelines of an event organised by YES Bank and The Hindu Business Line.
He said taking into account the production estimate of Agriculture Ministry, the country seems to have enough food grain to meet the requirement under the proposed bill as well as exports till 2014.
Thomas said his Ministry is looking into the new poverty figures, which would be the basis for deciding the number of beneficiaries over subsidies grains.
Food grain requirement under the proposed bill is pegged at 63 million tonne, eight million tonne higher than the current requirement of the public distribution system (PDS).
Thomas said the Food Ministry has started the process of framing rules for execution of the Bill, which is expected to be passed in the next session of Parliament. For smooth implementation of the bill, the Ministry has already initiated steps to modernise the PDS and to augment storage facilities, he said.
The government godowns are overflowing with grain. India is looking at bumper food grain production of 250.42 million tonne in the 2011-12 crop year (July-June), which includes 102.75 million tonne rice and 88.31 million tonne wheat.
The food grain stock with Food Corporation of India (FCI), India's nodal agency for food grain procurement and distribution, is higher by 18 per cent at 54.52 million tonne as on March 1.
Stating that Food Subsidy Bill is expected to rise with new poverty numbers, Thomas said, "Once the new Food law is implemented, the subsidy bill will go up to Rs 1.12 lakh crore. The government has capacity to absorb additional subsidy of Rs 3,000-4,000 crore".
For the current fiscal, the food subsidy is estimated to be around Rs 88,000 crore, which will go up to Rs 1.09 lakh crore with revision in 2000 census and 1993-94 poverty line estimates, he said.
On food grains export, the Minister said the export of rice and non-basmati rice would continue till 2014 as the country is expected to have sufficient stocks.
"As per production estimate of Agriculture Ministry, we have enough food grains to meet requirement of the Food Security Bill as well as for exports till 2014," he said. Addressing an agribusiness event, the minister stressed that banks should come forward in lending farm business activities, including setting up of storage facilities.