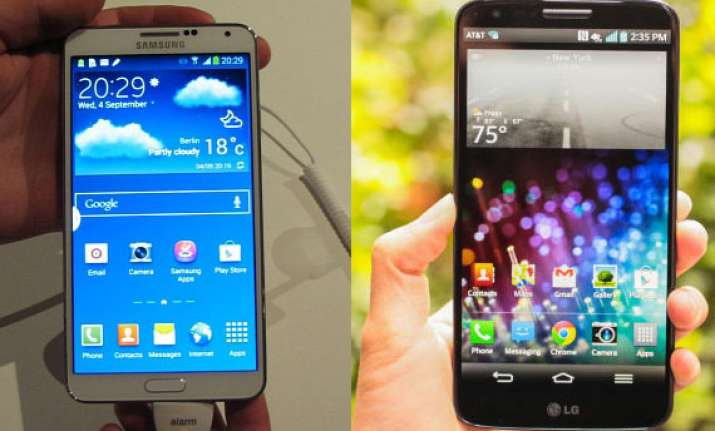 New Delhi: One of the most striking trends in smartphone designs in 2013 is the consumer's inclination towards larger screen size smartphones – or phablets. The market for phablets is exploding with an estimated 60 million are supposed to be shipped in 2013 and 146 million by the end of next year. New data from International Data Corporation, or IDC, smartphones with screen sizes of five inches to just under seven inches overtook shipments of the portable PC and tablet-device categories in Asia-Pacific (excluding Japan) during the three-month period from April to June.
Analysts say one of the chief drivers for phablets is the amount of time people use their smartphones for Web browsing, reading articles, and newspapers on the go, or simply navigating their journeys. The larger screen sizes make a significant difference to the user's experience when compared to conventional-sized touchscreens between 3.5 to 4 inches, they say.
The phablet culture got started in 2011 when Samsung broke the mold with its Galaxy Note "phablet," the first smartphone to come equipped with a stylus and nearly tablet-sized 5.3-inch screen. The Note II, released last October, increased the already oversized screen to 5.5 inches. The recently released Galaxy Mega has taken the too-big-for-your-pocket crown away from the Note II – as it comes with huge 6.3 inch display.
According to Melissa Chau, senior research manager at IDC, phablets first started as a trend driven by mature markets such as South Korea, Hong Kong and Singapore. But the phablet is now gaining in popularity even in emerging markets such as China and India.
Analysts say the medium-term outlook for phablets is good, but their price and the lure of their smaller, more portable cousins will keep a lid on consumer enthusiasm.
Here are five of the best phablets on the market.
Samsung Galaxy Note 3
The Samsung Galaxy Note 3 is a thinner, lighter update to the Galaxy Note 2. It has a stylus and also lands with an optional Galaxy Gear smartwatch.

Features
Android 4.3 'Jelly Bean'

5.7 inch (144.3mm) Full HD Super AMOLED (1920 x 1080) display

2.3 GHz quad-core processor for LTE version (3G version features 1.9 GHz octa-core processor)

13-megapixel rear camera

2-megapixel front camera

S-Pen stylus

32/64GB storage plus microSD card slot