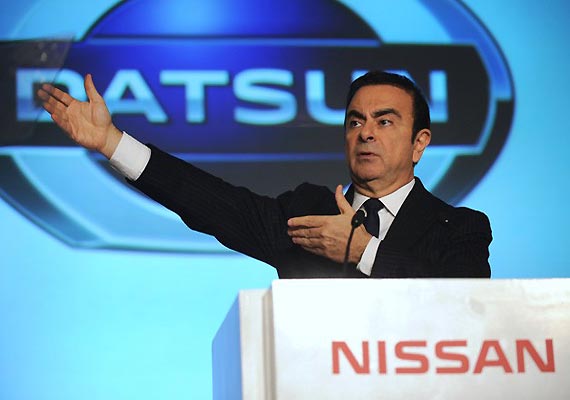 Mumbai, Mar 21: Japanese car-maker Nissan today announced its plans to revive the marque Datsun brand to launch affordable automobiles in India.
The vehicles will be sold in Indonesia and Russia besides India from 2014.  
The Datsun is thus set to make a comeback after three decades after the Nissan quit using the brand in 1981 to unify the model lineup under the Nissan brand.  
"Datsun will officially begin sales in India by 2014 in the entry hatchback segment with a price under Rs 4 lakh to tap high growth market," Nissan Motor India managing director and CEO Kiminobu Tokuyama told reporters here.  
The cars will be designed to meet distinct local customer needs, featuring the latest technology, and will be built locally.
The two models will go on sale within the first year and an enhanced lineup of models will be offered within three years, Tokuyama said.
The company is developing unique and modern platform at Chennai unit for Datsun brand. The company will be investing in developing new products and ramping up plant capacity, Tokuyama said, but declined to give the investment figures.
"We will offer our customers in India modern and spirited cars that they will be happy and proud to own-at an affordable price," Nissan Motor Co, program director Aswani Gupta said.
Nissan Motor India has already commenced second line of operation and increased its production capacity from 3 lakh vehicles to 4 lakh vehicles this month, he said.  
Nissan Motor India reported its highest-ever monthly sales in India up 158% year-on-year in February.
The company sold 5371 units in February compared to 2081 units a year ago, demonstrating Nissan's growing momentum within the market and passing the 5,000 unit mark for the second consecutive month.  
In the international market, Nissan Motors sales from Bric (Brazil, Russia, India and China) market has increased from 20 million in 2006 to 37 million in 2011.  
The Japanese car maker aims to take this number to 60 per cent by 2016 with the Datsun brand playing a key part.