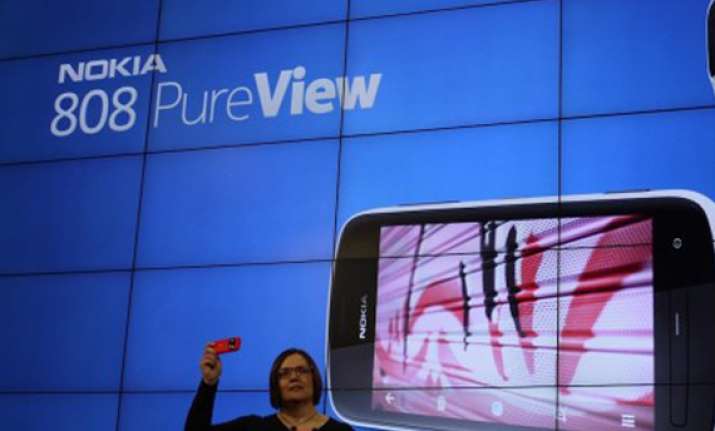 New Delhi, Jun 16: Nokia has launched its much-awaited cameraphone 808 Pureview in India at a Best Buy price of Rs 33,899.
The smartphone has a 4-inch wide screen and runs on Symbian Belle. It boasts of 41 MP sensor and the advanced imaging innovation featuring Nokia's award-winning Pureview technology and Carl Zeiss optics. This makes it among the best smartphones available in India currently.
Nokia in association with Dolby Laboratories has introduced a rich cinematic sound output in 808 Pureview which features both Dolby Digital Plus and Dolby Headphones technology. In addition, Nokia is bundling a Dolby Headphone with Pureview 808.
Pureview 808 comes in only black and white colours and will be available across Nokia retail outlets starting Thursday with an MRP of Rs 34,999. It is powered by a single core 1.3Ghz microprocessor which seems inadequate but according to Nokia, the phone has another processor dedicated to the camera function, thus ensuring a reasonably good performance. It has a 16GB internal storage, expendable up to 32GB with a microSD card. The RAM seems rather low at 512MB.
Speaking at the launch, said, "Nokia has always been known for its imaging legacy. What started off with a simple objective to create the most advanced imaging device, the Nokia 808 Pureview has evolved into something extremely revolutionary.
Vipul Mehrotra, director and head of smart devices, Nokia India, however, clarified that the handset would not compete with cameras per se.
"We are not looking at competing with cameras. Users can do other things with Pureview 808 apart from just clicking pictures," he said.
Asked if one would see the Pureview technology coming to its other handsets, Mehrotra said, "We would like to introduce this technology across our lines of products."
"Nokia is a full line player with focus across product lines. Our aim is to bring innovation at every price point, be it the Asha series or the Lumia devices. We would look at taking the Pureview technology, which has taken five years to develop, across categories," he added.
Priced at Rs 33,899 MRP, the phone is also placed cheaper than Samsung's SIII (Rs 43,180) and HTC One (42,999).
Till now, Nokia was offering 12MP as the highest available capacity for cameras with its N8. It offers low-cost phones, especially under its Asha series, while its high-end smartphones include the Windows-powered Lumia series.
Nokia has struggled in the past in the smartphone segment with Korean giant Samsung and Apple grabbing major share of the global pie. It is betting big on its tie-up with Microsoft (to bring Windows operating system to mobile phones) and Pureview 808 to help it reclaim its numero uno spot.
As per a Gartner study, Samsung topped mobile phone sales (with 86.6 million units) in the January-March 2012 quarter, dethroning Nokia which could sell only 83.2 million units.