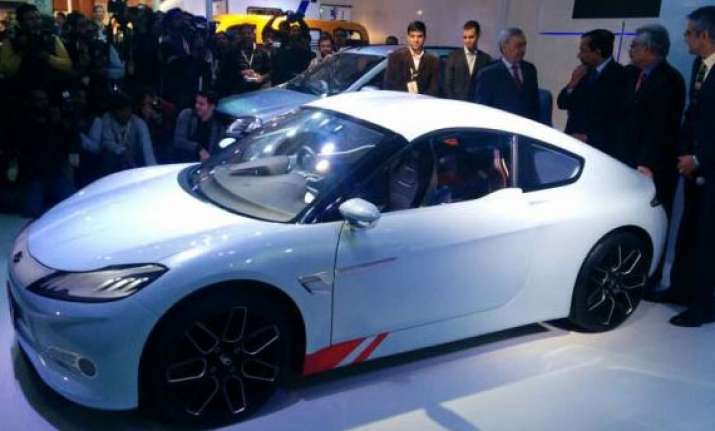 New Delhi: Mahindra showcased its first new electric sports car 'Halo' at the Auto Expo 2014.
The Halo sportscar is powered by an electric motor that generates about 140 bhp. The company claims the car can attain a speed of 100 km/hr in just about eight seconds.
It is a two seater and two door electric concept car from the Indian car maker. At the event, Pawan Goenka, Executive Director and President of Automotive and Farm Equipment sectors, Mahindra and Mahindra, said, "There is a plan to commercialise Halo, we are working on a bigger powertrain and a final design. It will take about three years to be production ready. It may very well turn out that the market for the car may be outside India. Unless there is government support for electric vehicles, the car could be launched outside India first."
"This car has been fully designed and developed in India with all indigenous technology," said Chetan Maini, CEO of Mahindra Reva Electric Vehicle.
It has a top speed of 160 kmph with a range of 200 km on full recharge. The car comes with safety features such as a dual touchscreen infotainment system and high end connectivity.
From the outside, the car looks like it has been custom made for a race track performance. The car has been aggressively styled and will appeal to race car fanatics. The car may be put up for sale sometime in late 2015 or early 2016 and the production version is likely to cost about Rs. 30-35 lakh.