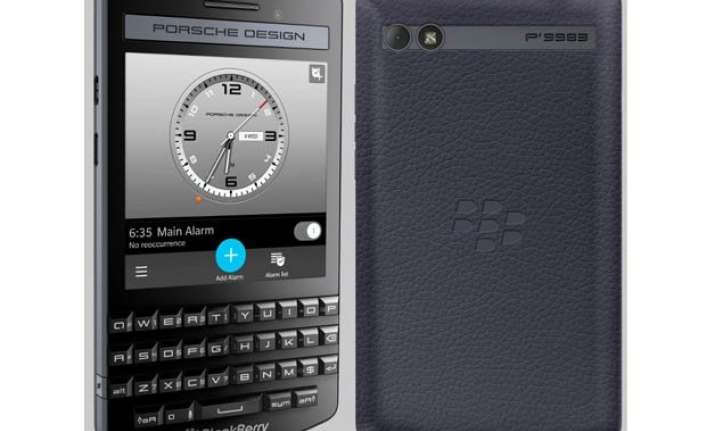 New Delhi: Looking to expand its smartphone market in India and to compete with Apple and Samsung products, BalckBerry has launched its premium product Porsche Design P'9983 Graphite at a price of Rs. 99,990.
The new high-value product is an extension of Porsche Design P'9983 smartphone launched last year.
The new premium Qwerty smartphone will be available to the customers in the coming days.
Initially launched in May, the BlackBerry Porsche Design P'9983 Graphite comes with exclusive graphite-metallic coloured elements. The phone features hand-wrapped leather on the back door cover.
The product is the fourth in line of the collaboration between BlackBerry and Porsche Design, others being BlackBerry Porsche Design P'9983, BlackBerry Porsche Design P'9982, and BlackBerry Porsche P'9981.
The Blackberry Porsche Design P'9983 graphite features a 3.1-inch touch display with a 720 x 720 pixels resolution which translates to a pixel desnsity of 330ppi.
The smartphone is powered by a 1.5GHz dual-core Snapdragon S4 processor and has 2GB RAM and 64GB onboard storage further expandable up to 128GB via micro SD card.
The phone is powered by a 2100mAh battery.
BlackBerry Porsche Design P'9983 Graphite sports an 8-megapixel rear camera and a 2-megapixel front camera.
For connectivity options, it features Wi-Fi 802.11 a/b/g/n; Bluetooth 4.0; LTE; FM radio; Micro-USB, and Micro-HDMI.
The new premium smartphone from BlackBerry has a unique PIN feature that provides an exclusive Porsche Design PIN ID and also has BlackBerry 10 features such as Blackberry Hub, Blackberry Blend, access to Android apps from Amazon AppStore.
The phone comes with some of the exclusive Porsche Design accessories that will be in the box including a premium stereo headset, an international charging kit, a polishing cloth, and a USB cable for high-speed data transfer.
Commenting on the launch, Hitesh Shah, Director - Sales and Distribution, at BlackBerry India said, "With the launch of the new P'9983 Graphite from BlackBerry, we bring a unique stylish smartphone combined with the superior productivity and ultimate security experience of BlackBerry 10 technology for our Indian consumers. This new smartphone is custom-built for power professionals aiming to make a style statement while not willing to compromise on effective communication and collaboration."