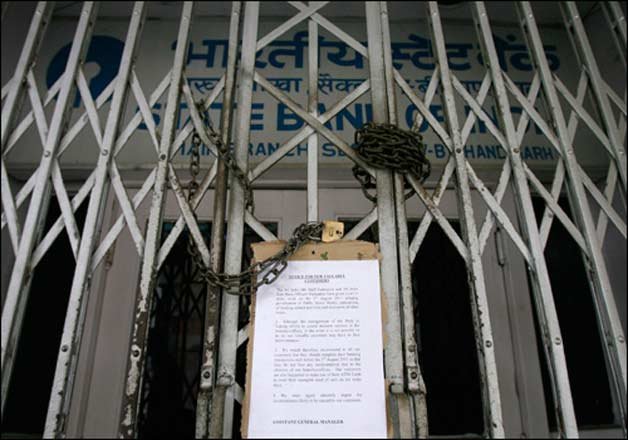 Vadodara: Bank employees will observe a country-wide strike on December 2, a leading union said today.
All-India Bank Employees Association (AIBEA) General Secretary C H Venkatchalam said the strike call is to press for addressing issues like de-linking associate banks from SBI and extending compassionate appointments as per government guidelines.
Separately, the State Sector Bank Employees Association (SSBEA) has also given a call for strike on two days (December 1 and 2) in SBI's associate banks, its Chairman Mahesh Mishra said.
SSBEA may go for an indefinite strike in associate banks to be followed by indefinite stir by AIBEA in all banks by end of December if their demands are not conceded by then, Mishra warned.
The other demands include increase in quantum of staff housing loans, recruitment of sub-staff and part-time employees and not imposing SBI service conditions and career progression in associate banks.
Venkatchalam said starting from October 26, there will be a series of agitations leading to the strike in early December.
"Instead of coming forward to negotiate with SSBEA and our unions, recently SBI management sent a fiat to all associate banks instructing them to implement SBI Career progression policy.
"This means the SBI management does not care for bilateralism or believe in discussions with the unions," he added.
New Delhi: A 15-year-old girl was allegedly raped in east Delhi's Pandav Nagar area with the accused in the case suspected to be a minor, police said on Saturday. The accused, a resident of a slum cluster in Shashi Garden area, has been apprehended by police, said an official.
According to police, the incident was reported yesterday evening when the girl was returning from a visit to the grocer's shop. On her way back, scared by a pack of stray dogs, she tried to hide behind some bushes near a temple when the accused pulled the girl inside his shanty, police said. His dwelling was close to the spot where the girl was hiding, they added.
It was alleged that the accused was following the girl and took advantage of the situation to drag her inside his shanty and force himself upon her, said the official.
Her relatives approached police after she returned home and told her mother of her ordeal. She was subsequently taken for a medical examination, which confirmed rape, said the official.
A case was registered under relevant sections of IPC and the POCSO Act and the accused was apprehended from his house immediately. Police said it was found that the accused is addicted to drugs and often created ruckus in his slum cluster.