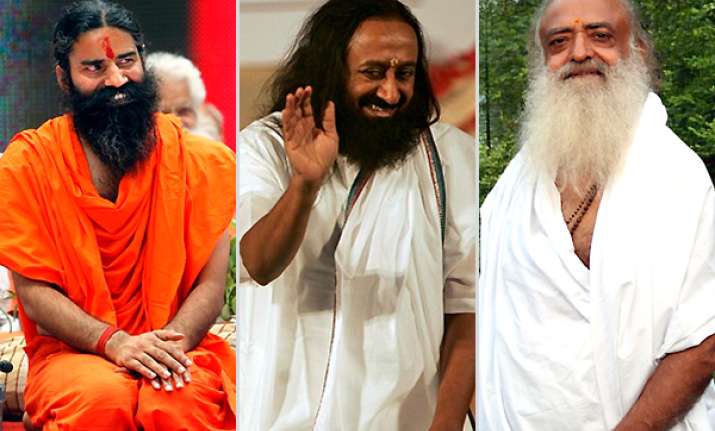 New Delhi, June 6: Patanjali Ayurved of Baba Ramdev, Sri Sri Ravi Shankar's Art of Living,  Pujya Bapuji Sant Shri Asaramji Ashram, Aurobindo Ashram, Bochasanwasi Shri Akshar Purushottam Swaminarayan Sanstha (BAPS) are not merely organisations which cater to the spiritual needs of their millions of devout followers, but are also emerging brand names in the world of FMCG products in India.
These outfits run by babas are gearing up to give the big multinational and Indian FMCG brand leaders a run for their money.
According to an Economic Times report, Baba Ramdev started retailing his Patanjali line of FMCG products through kirana stores and modern retail in April.
Says Acharya Balkrishna, promoter of Patanjali Ayurved Products and Ramdev's trusted aide: "With entry into modern retail, we plan to quadruple our sales from Rs 455 crore in 2011-12 to nearly Rs 2,000 crore this fiscal."
If achieved, this would make Patanjali larger than Fair & Handsome and Boroplus-maker Emami and will be close behind Colgate-Palmolive.
Patanjali Ayurved has its line of personal care and packaged food products in the burgeoning FMCG market.
Baba Ramdev has big-ticket plans for rural India. Patanjali Ayurved plans to launch swadeshi seva kendras with self-help groups by August, says Balkrishna.
Patanjali Ayurved  made a net profit of Rs 100 crore last fiscal, but being a not-for-profit organisation,  it has decided that none of the board members will earn from the company's profits, and it will be ploughed back to sustain their sister organisations.
Sri Sri Ayurveda Trust, the FMCG arm of Sri Sri Ravi Shankar's Art of Living, makes creams, shampoos, body care lotion, scrubs, cleansing milk, soaps, ayurvedic energisers and juices.
Says Umesh Pradhan, trustee: " Through sale of our products, Art of Living funds its various service initiatives like 185 free schools which it runs in Naxal and tribal belts of India."
"Our devotees are our primary consumers", says Pradhan. His organisation claims to have more than 300 million followers across the world, and sells its products through "Divine Shops" set up at Sri Sri's gatherings and through online retailer Amazon.
Says C R Sudarshan, a volunteer at Art of Living ayurvedic clinic and retail chain Divine Shop in Bangalore: "Once you come into the spiritual path, you understand how it is connected with the body and mind. You tend to become conscious of chemicals being used on your body and prefer more organic food."
Ahmedabad's Sant Shri Asaramji Ashram's brochures say, its products extend the "benefits of the pristine rishi culture to the masses at lowest cost possible". It sells its products through its outlets at ashrams, mobile vans and at devotees' homes.
Bochanwasi Shri Akshar Purushottam Swaminarayan Sanstha (BAPS), that runs nearly 800 Swaminarayan temples in India, US and the UK and Akshardhams in New Delhi and Gandhinagar, markets its products  under BAPS Amrut brand, and also retails them online.
It markets chyawanprash, honey, oil, tea, shampoo and dental care products under the Amrut brand name.
Puducherry-based Aurobindo Ashram has also entered the FMCG market with products like incense sticks, soaps, candles, perfumes and furniture meant for its devotees. Similarly, Coimbatore-based Isha Foundation has also entered the FMCG space with its own products.
Sanjiv Goenka, chairman of Spencer's Retail, thinks, products made by the babas have the potential to challenge some of the top FMCG brands in the market.
"These organisations have huge brand pull and Ayurveda products always do well. It is a potent pull  factor".