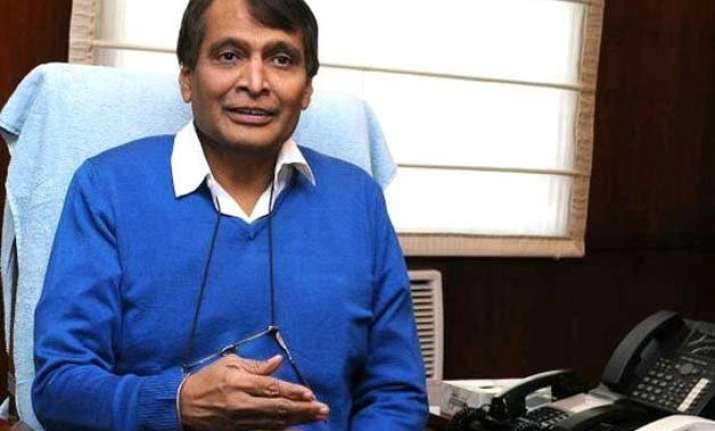 New Delhi: To drive Indian Railways out of its "troubles", Union Minister Suresh Prabhu today prescribed market borrowings, public-private partnerships and monetising assets to garner Rs 8.5 lakh crore worth resources over the next five years, even as he ruled out "privatisation".
Prabhu asserted he did not go for hike in passenger fares or using taxpayers' money for development of projects. He also dismissed apprehensions that freight rate increase would have any major impact on prices of essential items.
Prabhu, who did not announce any new trains during the Budget unlike his immediate predecessors, said fall in diesel prices was one of the major reasons for sparing passengers from any hike.
During his maiden Budget speech and various interactions thereafter throughout the day, including a 'talkathon' that was telecast live on YouTube while fielding questions on Twitter, the Minister said Railways will monetise its assets, rather than selling them.
He expressed confidence that institutions like LIC from India and sovereign funds from abroad would provide long-term debt without insisting on early repayment of loan.  "Loan is way forward (infrastructure) development.  Countries like US, China and Europe have taken loans for development of their infrastructure," he said in an interview to Lok Sabha TV.
Asked whether the government is going in for privatisation of railways in future, he explained: "We are taking debt for development of railways infrastructure, that means we are not doing privatisation. Besides there will be no burden of development on passenger fare as well as tax payers money."
Acknowledging that Railways is in "trouble", he said public-private-partnership policy must change to attract investment for capacity building.
"Honestly, I am telling you Railways is in trouble and we have to find a solution which is completely suitable to Railways. We cannot find a political solution to economic problems. Railways problem is that we need to create capacity, that is the only way," he said at a press conference organised by  CII.
"Many of the PPPs have not evinced interest. That has happened for a simple reason that the PPP policy that we have in place is not right. There is no regulatory system in place that whenever there is any dispute between the Railways and the private party it cannot get addressed properly," he said.
"There is a huge amount of interest in the Railways. We have to make policy changes," Prabhu added.  Defending the hike in freight rates that would rake in Rs 4,000 crore more, Prabhu said it would have minimal impact on the transportation of commodities and would not affect the prices of essential items like foodgrains, fertilisers and urea.
Prabhu said that the rail budget has laid a roadmap for the coming five years for an overall revamp of the rail system, which entails an investment Rs 8,56,020 crore. For the current year, the investment figure is Rs 1,00,011 crore.  
"Money that is to be raised to finance our operation is largely coming from extra-budgetary resources. But we cannot depend upon the GBS alone. The finance ministry also raised money from the market. So why not we do the same thing?" Prabhu said during his post-budget media interaction.  
To a question during talkathon on reasons behind not hiking fares, Prabhu said: "We have ... prepared a plan.  Resources on accounting of not hiking fares is not an issue.  This year, as you know there is fall in diesel prices, which is one of the major fuel that Railways uses.
"And then again we are not making any significant improvement in the quality of services for the Railways. It would have been unfair for me to ask people to pay more before I do all this."