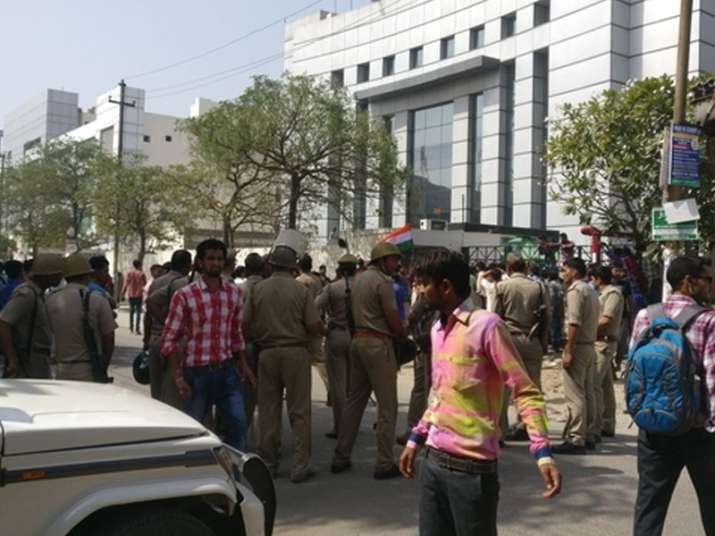 Chinese smartphone maker Oppo on Wednesday halted production at their Noida unit as tensions prevailed after one of its employees, a Chinese national, allegedly tore the Tricolour and threw it in a dustbin earlier this week. 
According to a media report, the company has now halted the production of handsets here as its workers and locals continue to protest.
Company officials said that the work at the site will start only after the protestors back down and situation comes fully under control of the management. 
The situation will be assessed on Thursday, officials said, adding that no decision has as yet been taken on restarting production.
In a statement issued here on Wednesday, the company termed the incident unfortunate and reaffirmed that this was an individual's behaviour.
"We at Oppo India would like to restate our deep respect for India and the people here. Since our establishment in India, Oppo has been committed to the development of the industry and local communities. Our priority is the well-being of our employees and the community we service," the company said expressing regret over the incident.
"Oppo India regrets this unfortunate incident and reaffirms that this is an individual's behaviour that in no way represents our company's position," it added.
The Dongguan-headquartered firm said that it has taken strict action against the employee who disrespected the Indian flag.
"We have zero tolerance for such matters and have taken strict action in terminating the individual and continue working very closely with the authorities on the matter," it said.
Protest broke out on Tuesday at the Noida plant of Oppo after workers alleged that one of their Chinese colleagues had thrown the Tricolour in a dustbin. 
Chiona, on the other hand, has responded guardedly to the issue. A Chinese Foreign Ministry spokesperson said in Beijing that China hopes the Indian 'authorities will properly resolve the issue'. 
"We hope that it will be resolved properly. The Chinese government always asks its Chinese enterprises and staff overseas to abide by local law, regulations and respect local practices and customs," the spokesperson said.