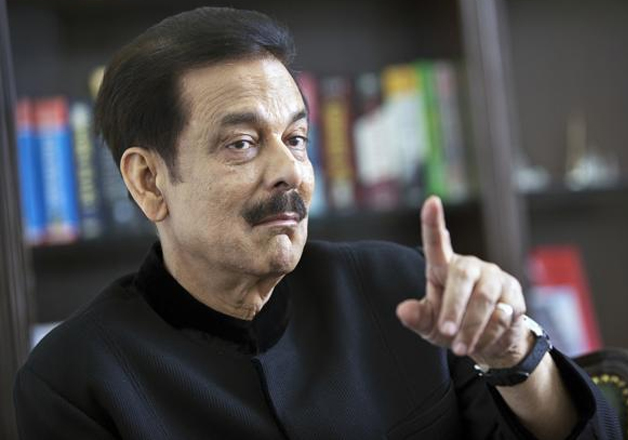 The Supreme Court today granted one week's time to Sahara chief Subrata Roy to surrender and return to custody.
This comes hours after the apex court agreed to reconsider its order of sending him back to jail. 
The top court had earlier this morning cancelled all interim relief including bail granted to Roy and two others and directed them to be taken into custody after a bench headed by Chief Justice TS Thakur got infuriated when senior advocate Rajeev Dhavan, appearing for Sahara, said they have not been involved in the process of selling of properties by Securities and Exchange Board of India (SEBI).
Immediately after this, Kapil Sibal rushed to the court to convey Roy's apology to the top court and pleaded to withdraw its earlier order.
After this, the CJI said that he will speak to the other two judges who are in the bench and reconsider withdrawing earlier order of cancelling Roy's parole.
"If you want to be heard, you go to jail. Don't tell us what to do. All interim arrangements stand cancelled. Condemners are directed to be taken into custody," the bench, also comprising Justices AR Dave and AK Sikri, had said. 
Dhavan said it was not a fair statement that they should be sent back to jail. 
"We have deposited Rs 352 crore already as per the last direction which is Rs 52 crore more. It is not a fair statement," he said. 
Counsel appearing for SEBI said that 58 properties were put on auction and they had sold eight of them raising Rs 137 crore. He also said that five of the properties were provisionally attached. 
The SEBI counsel said the list of properties given by Sahara to them were those which were already attached. To this, the bench told the Sahara counsel "You gave a list of properties which are already attached and you are not cooperating. It's better you if you go to jail." 
The bench asked Sahara chief to deposit Rs 300 crore to be allowed to remain on bail. 
Dhavan then suggested that the matter be posted for hearing on September 30 when they would argue on it. 
Soon after the bench passed the order directing that Roy and the others -- Sahara directors Ashok Roy Choudhary and Ravi Shankar Dubey, be taken into custody, Sahara withdrew its counsel and apologised before the bench. 
The Chief Justice said that some people play with the dignity of the court and there are some lawyers who are disrespectful towards the court.  
Supreme Court had on September 16 extended the parole of the Sahara chief till Sep 23, which was granted to him in May after his mother passed away.