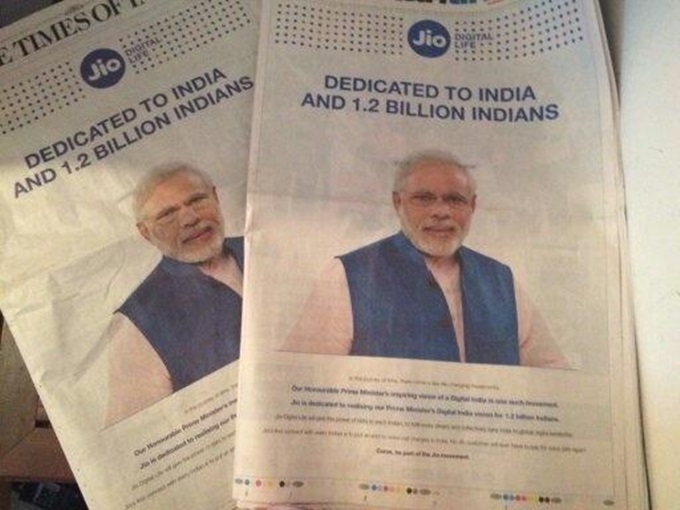 Reliance Jio may have to pay a penalty of just up to Rs 500 for using Prime Minister Narendra Modi's photograph in print and electronic advertisements without permission.
According to a Times of India report, the law governing prevention of improper use of emblems and names of 1950 provides for this rather insignificant penalty for violating norms.
Earlier on Thursday in a written reply in Rajya Sabha to a question by Samajwadi Party's Neeraj Shekhar, Minister of State for Information and Broadcasting Rajyavardhan Singh Rathore said that "no permission was granted by Prime Minister's Office" for using Modi's photographs in the advertisements. 
Responding to a query raised by SP MP Neeraj Shekhar about the actions taken against Jio for violating the norms, Rathore said: "The necessary act, the Emblems and Names (prevention of improper use) Act 1950, is administered by the Ministry of Consumer Affairs, Food and Public Distribution.
The opposition had also questioned the PM's photographs featuring in advertisements issued by e-wallet 'Paytm' after Modi announced the demonetisation of old Rs 500 and Rs 1,000 currency notes.
On December 1, Reliance Industries Ltd chairman Mukesh Ambani praised Prime Minister Narendra Modi Prime Minister Narendra Modi for his 'bold' move to ban Rs 500 and Rs 1,000 currency notes, saying the demonetisation will benefit common people.
"I want to congratulate and applaud PM Modi on his bold decision to demonetise currency," RIL chairman Mukesh Ambani said while extending Jio's free voice/data offer till March 31, 2017.
 "…I believe that common people will be the biggest beneficiaries of this change," Ambani added.
PM Narendra Modi while addressing the nation on November 8, had announced that currency notes of Rs 500 and Rs 1,000 would no longer be considered valid and that citizens should get them exchanged or deposited in banks at the earliest.
"By introducing demonetisation, our PM has given us a cashless optimal economy, everybody has a digital ATM in hand now," Ambani said, adding, "With this historic step, he has given strongest possible push to digitally enabled economy."