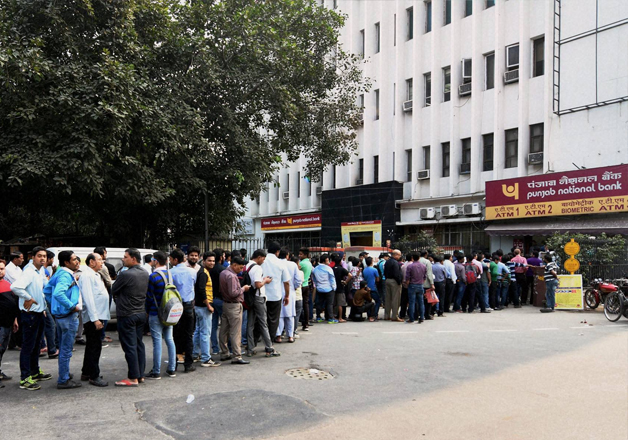 Banks and ATMs are all set to have a heavy rush today once again as they are opening for public dealings after a holiday on Monday.
Cash-strapped people started making beeline outside ATMs and banks in different parts of the country since early morning today.
Yesterday, banks were closed in many parts of the country (especially northern part) on account of Guru Nanak Jayanti and the limited success to ATMs created chaos as cash vending machines had gone dry. 
Scuffle and heated exchanges were reported from ATMs and banks from many parts of the country. Many sections of the society including small traders, restaurant owners, transporters etc started feeling the heat as the dependence on cash is very high. 
Meanwhile, Government yesterday said that it has set up a task force under the chairmanship of RBI Deputy Governor SS Mundra to ensure that ATMs across the country are ready to dispense higher denomination notes (Rs 500 and Rs 2000) in the shortest time. 
Hyderabad: Queues seen outside banks during early hours today #DeMonetisation pic.twitter.com/4njU9tfyjf

— ANI (@ANI) November 15, 2016
"The number of ATMs which will be recalibrated and which can dispense Rs 2,000 notes will be stepped up...To make this whole process faster, to expedite this whole process, a task force was decided to be set up under the chairmanship of Deputy Governor," Economic Affairs Secretary Shaktikanta Das said. 
The team has been mandated with working closely with banks and various agencies involved in disbursement of cash and recalibration of hardware and software of the ATM network, he said. 
"The task force would ensure that ATM network is activated in the quickest time," he said, adding that it will have its first meeting soon (possible on Tuesday). 
There are about 2 lakh ATMs in the country and it has become necessary to recalibrate all cash handling machines to dispense the new design high security notes of Rs 500 and Rs 2,000 denomination.
Meanwhile, the Supreme Court is set to hear several petitions challenging the Modi government's demonetisation move of Rs 500 and Rs 1,000 notes on Tuesday. The apex court will hear the pleas on quashing government's decision to demonetise the currency notes on the grounds that the move is causing severe problems for the common people. 
Prime Minister Narendra Modi had on Tuesday night announced the surprise demonetisation of higher denomination notes. After a review by Finance Ministry, the limit of old and now defunct Rs 500 and 1,000 notes that can be exchanged for freshly minted Rs 2,000 and a new Rs 500 notes was increased from Rs 4,000 to Rs 4,500 yesterday. Cash withdrawal limit at ATMs was hiked to Rs 2,500 from Rs 2,000 a day.