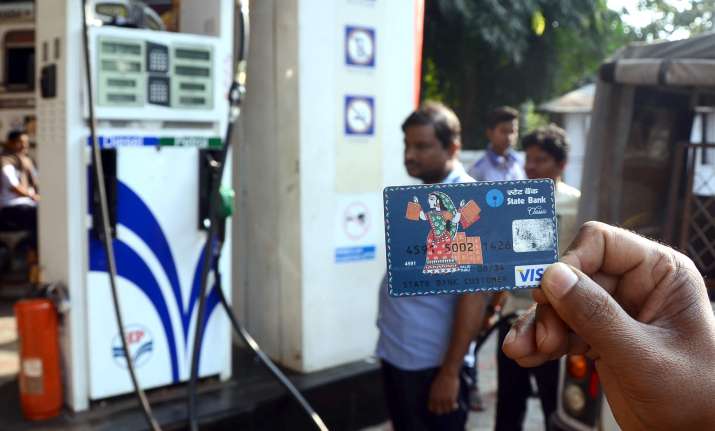 Taken aback by the sudden move of banks to levy 1 per cent transaction fee on card payments at petrol pumps, the owners will stop accepting plastic money from Monday.
"In view of the debit of MDR of 1% it has been decided to stop accepting payment through Credit/Debit Cards from 9th January 2017," Ajay Bansal, President of All India Petroleum Dealers Association, said in a statement.
Talks are on between the Oil ministry officials and the banks regarding a compensation system for the petrol pump dealers.
The decision by the pump owners will come as a rude shock for people as they are already reeling under cash crunch after the demonetisation move by the government. Also, it is in direct contradiction of PM Narendra Modi's push for cashless transactions.
It was on Saturday night that the prominent banks of the country sent notices to dealers to inform them about the surcharge. However, customers will not be charged any extra for using cards.
As per dealers, the move by banks will wipe out their profits and they cannot sustain if that happens.
However, ministry officials in the national capital have a ensured a quick solution to dealers. "It should be borne by the oil marketing companies. But that would need 2-3 days discussion to evolve a system that would allow dealers to raise demand daily and banks to compensate them. We are asking banks to put off the levy till detailed discussion on this is done," TOI quoted a a top ministry official as saying.
There are 56,190 active petrol pumps in the country as of now.
The full text of Ajay Bansal's statement:
"We have been informed by HDFC and other Bank that we will be charged 1% on all Credit Card Transactions and between 0.25% and 1% on all debit card transactions from 9th January 2017. The same will be debited to our account and net transaction value will be credited to our account. They have quoted RBI Circular DPSS.CO.PD.No.1515/02.14.003/2016-17 dated 16th December 2016 as the root cause of this debit. Unfortunately, neither that circular nor the circular referred to by the above said circular have any reference to Credit Card Charges or for not passing the same to the customers. We feel that HDFC Bank is using this as an excuse to improve their bottom line through transactions at fuel stations. Both RBI Circulars are enclosed along with HDFC Bank advice to dealers.

Our margins are fixed on a per KL basis and do not have any scope to absorb these charges. We have specific mechanisms to compute the margin and these do not have any scope for credit card MDR. This will lead to financial loses for the dealers.

To compound maters further these credit card machine issuers are delaying settlements and not settling the entire dues as per our settlements. There are disputes about purchases being returned or not delivered. In a Retail Outlet there is no scope for returns or not being delivered a product once you have paid for the same. The reconciliation of swipes to amount being credit to our accounts is causing a lot of hardships and losses to a large percentage of the dealer community.

In view of the debit of MDR of 1% it has been decided to stop accepting payment through Credit/Debit Cards from 9th January 2017.

All POS machine issuing banks who are not charging the same and are willing to adhere to existing commercial arrangements should correspond with us to let us inform our members to continue with accepting cards on their machines."