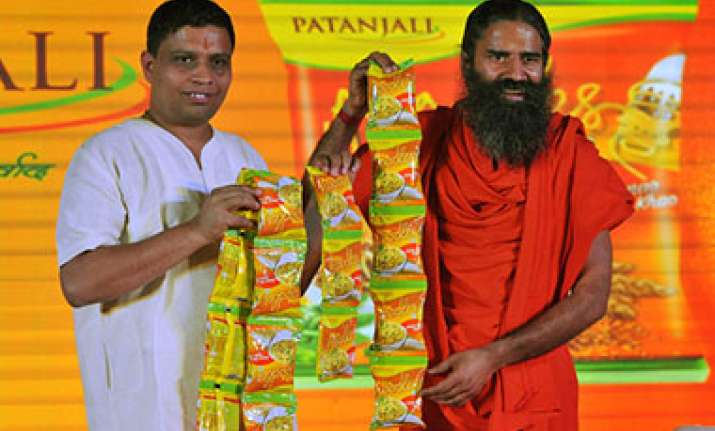 New Delhi: Yoga guru Baba Ramdev is trying to build a new business empire by targeting shopkeepers on the Swadeshi ground. Patanjali Ayurved in its latest advertisements are now appealing to shopkeepers 'to give prominence to Patanjali products on shelves' to help fulfil the dream of Mahatma Gandhi to promote Swadeshi. 
One of the Patanjali spokesperson SK Tijarawala said that the country needs Swadeshi products and that they are seeking support from the small stores to take forward the Swadeshi movement.
Rivals like Parle products say that they don't deny Patanjali the Swadeshi plank but they are Swadeshi too.
"We also make in India. Shopkeepers are looking for returns on investment from their real estate space and pushing products for prominence on shops won't cut ice," Mayank Shah, Parle products marketing head, was quoted as saying in a ET report.
Usually, companies pay the shopkeepers for prominence of their products on shelves, but Patanjali is not paying anything extra. 
Edelweiss Securities analyst Abneesh Roy said that normally companies pay for prime space on stores, but Patanjali is playing the high-volume, low-margin strategy, which will definitely affect the distribution strategy.
Patanjali has been doing this with organised retailers like Future Group, Reliance Retail and Shoppers' Stop-promoted HyperCITY.
Also the company lately targeted all its rivals in the juice market claiming that Patanjali juices has more pulp at lesser prices, with discounts of about 14-16% in comparison to Dabur's Real and Pepsico's Tropicana. 
Patanjali sells ghee, chyawanprash, honey, juices, instant noodles and shampoo, which has been gaining market share specially the Ayurvedic products such as honey and Chyawanprash. According to Brokerage firm IIFL Institutional Equities Patanjali brand's sales will reach Rs 20,000 crore by fiscal 2020.