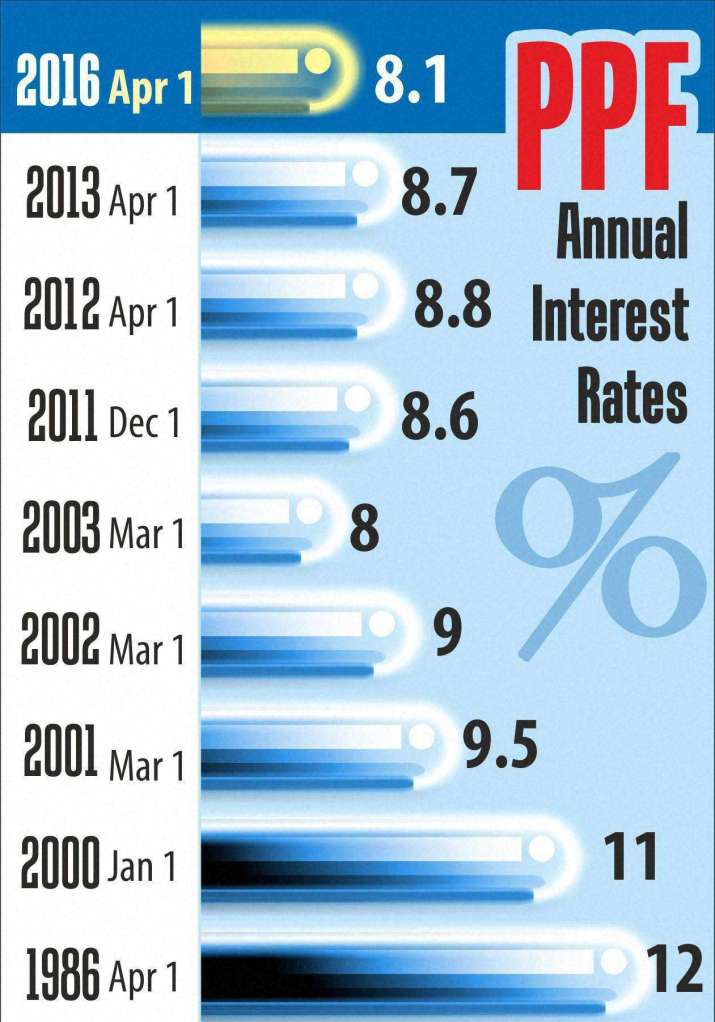 New Delhi: Soon after retracting the unpopular proposal to partially tax withdrawals, the government today once again invited heavy criticism by slashing the interest rates on Public Provident Fund (PPF) from 8.7 per cent to 8.1 per cent.
In the process, the interest rate for the national savings scheme was also reduced sharply from 8.5 percent to 8.1 percent. For Kisan Vikas Patra (KVP), it went down from 8.7 percent to 7.8 percent and for five-year recurring deposit from 8.4 per cent from 7.4 per cent.
Even the girl child scheme Sukanya Samridhhi Account (SSA) was not spared. The cut: From 9.2 percent to 8.6 percent.
"The new rates will be effective from next fiscal (April 1, 2016). The interest will be calculated on quarterly basis," said A.K. Chauhan, joint director in National Savings Institute (NSI).
According to him, the main reason for the downward revision was the two year yield on government securities had gone down.
He said the total corpus of all small savings scheme was around Rs.300,000 crore. The net accretion this year was around Rs.65,000 crore till January 31.
The SSA has around 85 lakh accounts with a deposit of around Rs.3,500 crore. The KVP corpus is over Rs.21,000 crore, Chauhan said.
Earlier, the government had proposed a tax on 60 percent of the PPF corpus on maturity if it was not invested in annuities - that is schemes that fetch periodic returns.
Also proposed was a limit on monetary contributions of employers in provident fund to Rs.150,000 per annum for tax sops.
Both these were withdrawn.
The government also cut interest rates on other small savings term deposit schemes.
The small savings interest rates are perceived to limit the banking sector's ability to lower deposit rates in response to the monetary policy of the Reserve Bank of India (RBI), the government said last month.
In the context of easing the transmission of the lower interest rates in the economy, the government also has to take a comprehensive view on the social goals of certain National Small Savings Schemes.
Interestingly the rate of interest on the Employees Provident Fund (EPF) is 8.8 percent.
"The self employed is hit by this move. For them the PPF is the one save mode of investment. Now the return has come down," N.Varadarajan, a self-employed person, told IANS.
Meanwhile the government's decision to slash down the rates led to a big public outcry on microblogging site Twitter.
"Bleed the ones who pay tax! This #ppf rate cut by #Modi government is so not on, Anti national!," tweeted Vijaita Singh.
Sharing similar sentiments, another net savvy citizen Sudhanshu S. Singh tweeted, "What's this? Interest rate on PPF has been cut to 8.1%. Where should common people invest for safe earning."
Sagar Kumar Jain took a potshot at Prime Minister Narendra Modi's government, tweeting: "Modiji has to offer something to common man, everyday!! PPF interest rate cut drastically. Difficult to see Lotus in assembly post 2019."
Some of the postings were especially directed against Finance Minister Arun Jaitley.
"EPF tax or PPF interest: Why is Arun Jaitley anti-common man? Being a billionaire he can't understand poverty?," went an equally angry tweet from Bharatha10.
(With IANS inputs)