Follow us on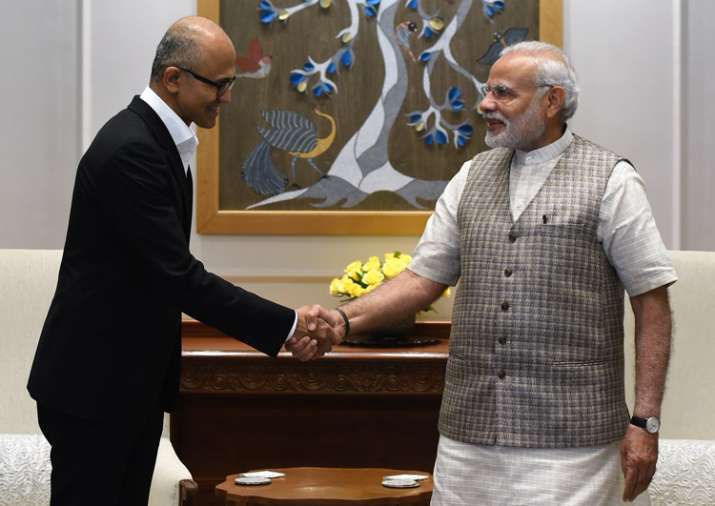 Microsoft CEO Satya Nadella on Tuesday met Prime Minister Narendra Modi and IT Minister Ravi Shankar Prasad to discuss the company's digital inclusion programme that leverages technology for improving rural healthcare and education. 
Nadella and IT Minister Ravi Shankar Prasad talked about the software giant's rural digital initiatives and leveraging its professional networking platform, LinkedIn, for creating employment opportunities. 
The high profile executive, who is on a multi-city tour, is scheduled to address a conference on 'Future Decoded' in Mumbai. 
The India born CEO also participated in a round table at NITI Aayog on tapping into cloud computing for good governance in the country. 
"Microsoft CEO Satya Nadella answers queries of senior govt officials on secure use big data and cloud computing for good governance," NITI Aayog said in a tweet. 
It also shared a photograph of NITI Vice Chairman Arvind Panagariya presenting Nadella a book titled 'State Forward' about best practices in governance from States. 
He was in India's tech hub Bengaluru yesterday speaking on a slew of topics including Artificial Intelligence and re-skilling, meeting the startup community and unveiling a cloud partnership with e-tailer Flipkart. 
Terming his meeting with Nadella as "fruitful", Prasad said India would look at applying the experiences of Microsoft's pilot project in Harisal for its newly-announced Digi Gaon initiative. 
"Microsoft is doing good work in India. In particular, wehave appreciated their initiative for digital inclusion in village...the Harisal pilot project in Maharashtra where they brought in a lot of technology and connectivity for digital health and digital education...," Prasad said after the 30-minute meeting. 
"This is something I am considering for replication... given our larger vision of digital village announced in the Budget by the FM under Digi Gaon initiative," he added. 
Prasad said other issues that were discussed in detail included "LinkedIn involvement in skilling professionals to be exposed to good job opportunities". 
"In particular, LinkedIn exposure for creating more employment opportunities and Digi Gaon becoming a success with application of the experience of pilot project in Harisal, is something we eagerly look forward to," Prasad said. 
The issue of H-1B visas did not figure in the meeting with the Microsoft CEO, he said. 
Nadella and Google CEO Sundar Pichai, he said, represented a "powerful statement of extraordinary contribution" of India's talent, and accomplishments in the field of technology. 
On the issue of cloud, the Minister noted that India has a cloud first policy, and added, "we have empanelled Microsoft also". 
(With PTI inputs)