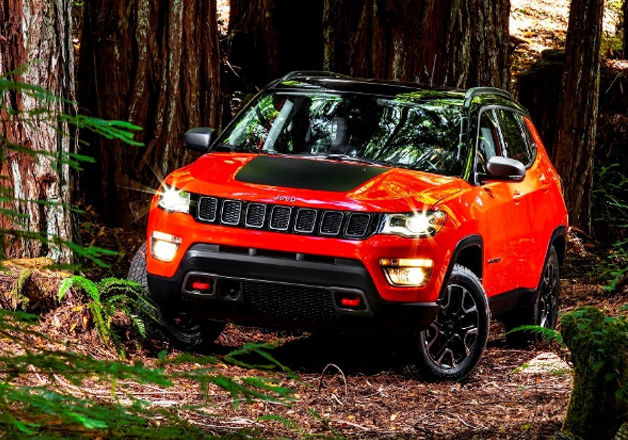 American carmaker Jeep has officially unveiled the much-awaited 2017 Compass compact SUV.
The company has released pictures of its new compact SUV to celebrate the start of production in Pernambuco, Brazil. 
While Compass SUV is expected to hit the Indian shores in 2017, the official details and a better look at the car won't be released until the 2016 Los Angeles Motor Show in November.
Unlike the previous model of Compass or even the new Renegade, the latest Jeep boasts a sharp and sculptured look. Talking about the size, it fits between the city-sized Renegade and mid-size Cherokee. 
However, the front end of the Compass takes design cues from Jeep's top-of-the-line Grand Cherokee, including similar LED daytime lights, headlights and wide, rectangular seven-slotted grille. 
It will be powered by 17 powertrain options for consumers in more than 100 countries around the world, the company said.
The sleek, black roof that stretches to the rear window appears to look similar to competitors such as the Range Rover Evoque.
The new SUV is expected to come in 157PS/195Nm 2.0-litre flex fuel petrol and 165PS/350Nm Multijet-II turbodiesel options. 
Talking about the interiors, the base Sport model features a 5-inch touchscreen system, ABS with ESC, reverse camera with sensors, dual airbags and electronic parking brake. 
The all-new Jeep Compass offers the best-in-class 4X4 off-road capability, superior on-road driving dynamics, open-air freedom, and a host of safety and advanced technology offerings, says the company. 
The company has confirmed that the sale of the new model will start in Australia in October 2017. 
While prices for the Jeep Compass start at around Rs 19 lakh in Brazil, the new compact SUV is expected to be available in India at a similar or lower price.