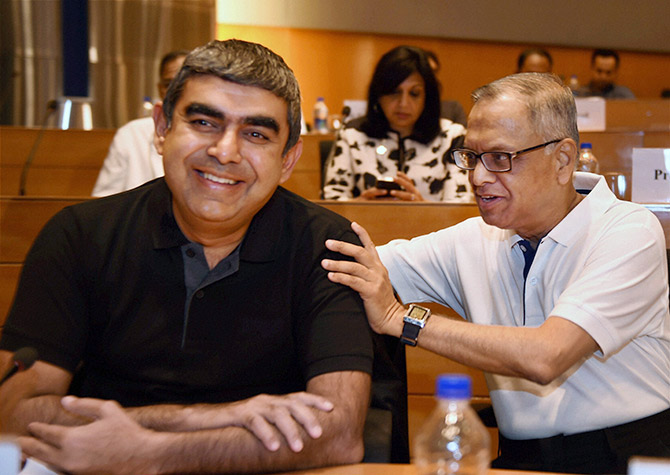 In an interesting development, Infosys Ltd has held its founder N.R.Narayana Murthy responsible for the abrupt exit of its Managing Director and Chief Executive Officer (CEO) Vishal Sikka, who resigned from both the posts today.
According to a report in Live Mint, Infosys has termed Murthy's 'continuous assault and misguided campaign' as the primary reason behind  Sikka's resignation.
"Mr. Murthy's continuous assault, including this latest letter, is the primary reason that the CEO, Dr. Vishal Sikka, has resigned despite strong board support," Infosys informed the stock exchange in a statement today. 
"Mr. Murthy's campaign against the board and the company has had the unfortunate effect to undermine the company's efforts to transform itself. The board has been engaged in a dialogue with the founder to resolve his concerns over the course of a year, trying earnestly to find feasible solutions within the boundaries of law and without compromising its independence. These dialogues have unfortunately not been successful," the statement added.
Alleging that Murthy's actions and demands are damaging the company, the Infosys statement added that the board believed it should set the record straight on the false and misleading charges made by its founder.
"The board declines to speculate about Mr. Murthy's motive for carrying out this campaign, including the latest letter," the statement added.
Though the Infosys statement did not mention which letter it was referring to, those in the know of things point out that the statement was in refernce to an email that Murthy sent  to some of his advisers on 9 August in which he claimed that he had been told by at least three independent directors of the company that Vishal Sikka was more chief technology officer (CTO) material than chief executive officer (CEO) material.
"All that I hear from at least three independent directors, including Mr Ravi Venkatesan (co-chairman), are complaints about Dr Sikka. They have told me umpteen times that Dr Sikka is not a CEO material but CTO material. This is the view of at least three members of the board, and not my view since I have not seen him operate from the vantage point of an Infosys board member," Live Mint quoted from his email.