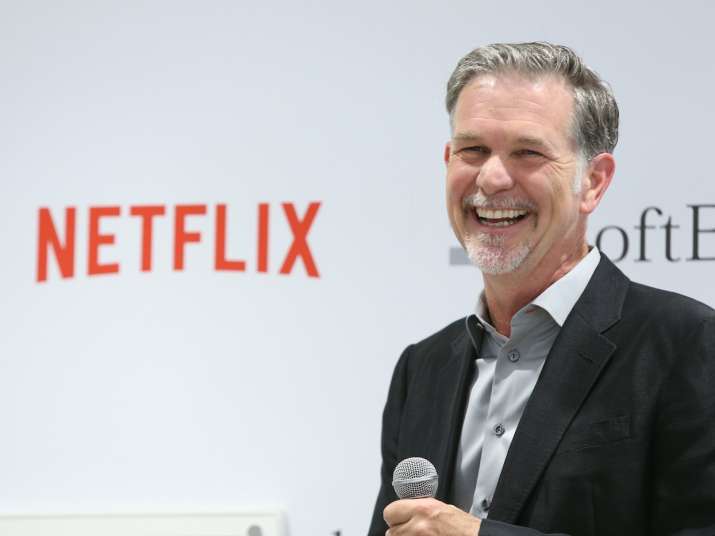 Reed Hastings, co-founder and CEO of global video streaming service Netflix, has said that India has emerged as one of Netflix's three largest mobile phone markets around the world. 
Announcing Netflix's merger with Airtel, Videocon d2h and Vodafone on Monday, Hastings said that the company wants to set up a full-fledged office in Mumbai, invest in creating content and open up more payment platforms for consumers. 
While announcing the merger, Hastings told reporters "India is one of the most important and vibrant countries in the world and we are delighted to be teaming up with three of its leading companies to make it much easier for consumers to enjoy Netflix,".
The company, with 44 million of its 94 million global users based outside the US, aims at being the first to eliminate buffering while at the same time working on technology that enables content to stream at speeds of 100 kbps (xxxx please check this figure)xxxx.
This holds importance for India as it is the world's fastest growing smartphone but ranks among the lowest in the world in terms of network speeds. 
"India is hugely important for us in the long term, because it's one of the strongest internet markets and internet TV is the future over the next 10-20 years, given that linear TV will decline in viewing eventually," he said. 
"It's a great opportunity to get in at the very beginning of internet TV, which will rise in India as phone networks as well as international players like YouTube and Netflix do more on the internet in India. We want to be in the top five apps on the (consumer's) phone," Hastings added. 
The company on Monday partnered with Airtel, Videocon d2h and Vodafone – making it the world's leading Internet TV network.
Under the agreement, Bharti Airtel will integrate the Netflix app into its direct-to-home service throughout the country and Videocon d2h will also integrate it's set-top box, allowing viewers to instantly access Netflix by clicking a dedicated Netflix button on the remote control.
Netflix is also aiming to tie up with telcos including Reliance Jio, as it is eyeing to reach out to India's 300 million plus internet users. It also plans to enable new payment platforms in India including partnerships with mobile wallets.
The company will set up its Mumbai office, its fourth in Asia, after Tokyo, Singapore and Taiwan.