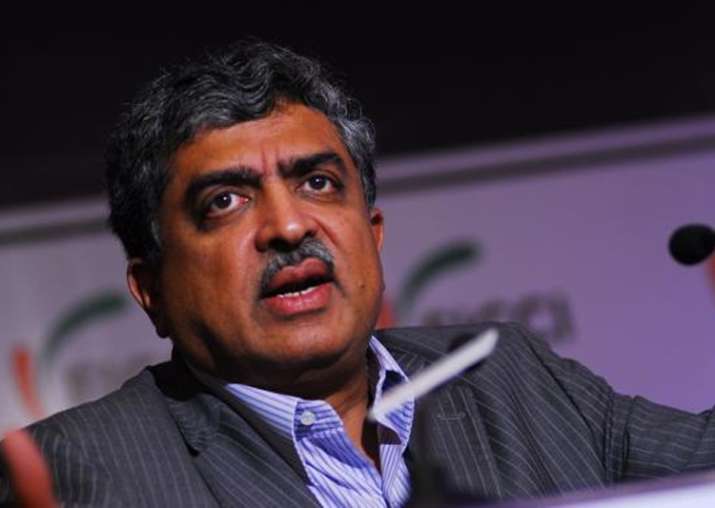 ​Infosys co-founder and former CEO Nandan Nilekani, who was named non-executive Chairman of the IT company Thursday evening, today said he will focus on bringing in stability and ensuring there are no "discordant" voices at the firm.
Within hours of taking charge at the helm of Infosys, Nilekani got into damage control mode seeking to calm investors' nerves through an early morning conference call.
The company has been in a crisis over the last few months amid a stand-off between the founders and the management over allegations of corporate governance lapses.
Last night, the Infosys board was recast, with Chairman R Seshasayee stepping down along with two other independent directors. Co-chair Ravi Venkatesan has now moved to an independent director role.
Stating that it is too premature for him to comment on Infosys' strategy and earnings, the architect of Aadhaar said he is committed to ensuring the highest standards of corporate governance are adhered to at Infosys.
"I am an admirer of N R Narayana Murthy... will ensure Infosys, Murthy and other founders have a healthy relationship," he said.
He added that he will be able to offer more details of the strategy in October and is focussed on bringing "complete stability".
"I will ensure there are no discordant voices in the company and everyone is on the same page," he asserted.
Nilekani said as the Non-executive Chairman, his role will be oversight, governance and functioning and to help with the CEO search that will look for internal and external candidates as well as Infosys "alumni".
He stressed that he will stay as long as necessary, but declined to put a timeline to his latest stint.
Nilekani said he will be with the company as its non-Executive Chairman till it was "stable" and "on its path of full potential".
In an investors' call that had over 600 participants, Nilekani said: "I plan to be here (with the company) as long as it is necessary and I will not be here as soon as I am not necessary.
"I have a set of tasks to accomplish -- the CEO search has to be done, the Board has to be reconstituted and the business has to be stabilised".
"I will be there as long as it takes and will work as hard as necessary to make sure Infosys is on its path of full potential," he said.
Issues related to the business of the company like strategies, transformation plan etc., will be discussed with investors in October, Nilekani added.
"We will make sure we continue to remain an iconic company that has been held in high regard for its achievements and driven by a great team," he said.
Nilekani, 62, who was CEO of Infosys from March 2002 till April 2007 and its Vice-Chairman, quit the company in 2009 to head the Unique Identification Authority of India as its first Chairman till May 2014.
He had to "pause a lot of things" because he had to come back to Infosys, Nilekani told the investors, adding that he was "fully committed" to all the shareholders.
After the software firm's first non-founder executive Vishal Sikka resigned as the CEO on August 18, Nilekani returned to the company as a non-Executive Chairman of the Board on Thursday.
Infosys is slated to host a press conference and another investor call later in the day.
(Agencies)