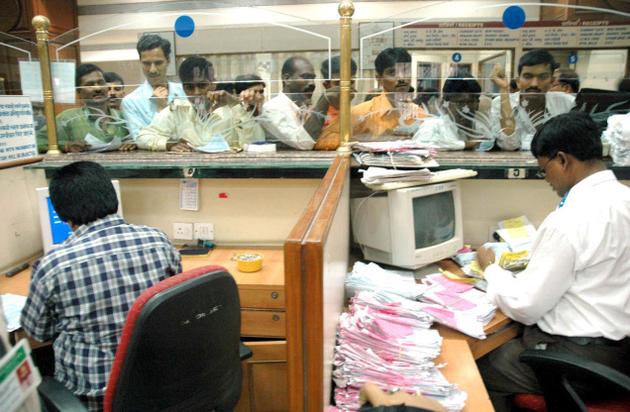 In a major crackdown on bank officials carrying out irregular and unauthorised banking transactions post demonetisation move, the government on Friday suspended 27 officials of different Public Sector Banks and transferred six others to non-sensitive posts.
"27 officials of various PSBs suspended and 6 officials transferred for involving in transactions violative of RBI instructions," Finance Ministry informed in a tweet.
27 officials of various PSBs suspended & 6 officials transferred for involving in transactions violative of RBI instructions #DeMonetisation

— Ministry of Finance (@FinMinIndia) December 2, 2016
The move comes amid reports of bank officials being involved in illegitimate exchange of the now-banned currency notes from across the country. 
"Some cases have come to notice, however, of officials involved in carrying out transactions which were irregular and violative of RBI's instructions. Action has been taken in such cases and 27 officials of various public sector banks have been placed under suspension and 6 officials have been transferred to non-sensitive posts," the Finance ministry statement read.
On November 23, four employees of the Udgir branch of Bank of Maharashtra (BoM) were suspended for exchanging scrapped currency notes to the tune of Rs 15-20 lakh by bending RBI rules.
Besides, the Income Tax department on November 25 raided the Kashmere Gate branch of Axis Bank in Delhi. The raids were conducted after two people were held with Rs 3.5 crore new notes.
The bank managers reportedly took the commission in gold.
"Pursuant to the decision of the Government to demonetise Specified Bank Notes w.e.f. midnight of 8th November 2016, Banks have done commendable work by putting in long hours of untiring effort in managing banking transactions," the statement further read. 
"While all efforts are being made to facilitate genuine transactions, illegalities will not be tolerated and appropriate action will be taken against individuals involved in irregular and unauthorised activities," it added.
Meanwhile, PM Modi today said that he was happy that people in India were "bearing temporary difficulties for long-term gain" after demonetisation.
"I am happy to see that the people of India are bearing temporary difficulties for the long-term gain of the nation," Modi wrote in an article posted on Linkedin.com.
PM Modi while addressing the nation on November 8 announced that high denomination notes would no longer be a legal tender. He took this decision in order to curb black money, terror funding and corruption.