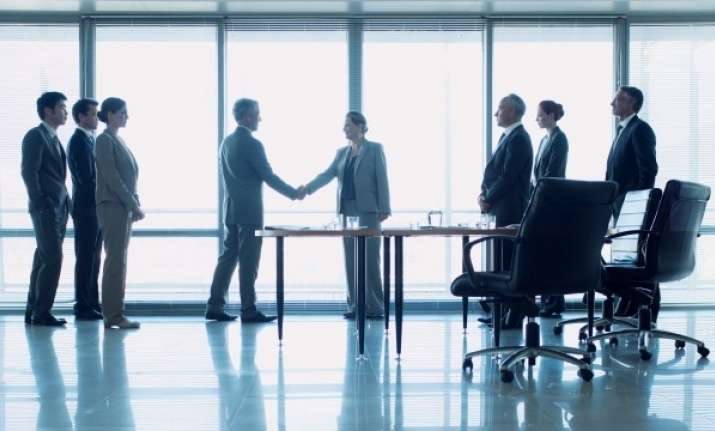 New Delhi: Global merger and acquisition deals in the first quarter this year were worth $701.5 billion (Rs 46.6 lakh crore), down 25%, says a report by Dealogic.
According to the global deal tracking firm, after three successive quarters with more than $1 trillion deal value, the first quarter of this year saw transactions worth $701.5 billion.
In the January-March period of last year, the deal tally stood at $934.5 billion (Rs 62.7 lakh crore).
The US targeted M&A volume totaled $248.2 billion (Rs 16.5 lakh crore) and accounted for 36% share of global M&A, while Europe, the Middle East and Africa (EMEA) targeted M&A stood at $217.9 billion (Rs 14.5 lakh crore) (31% share) and Asia Pacific targeted M&A stood at $195.9 billion (Rs 13.03 lakh crore) (28%).
Sector-wise, technology was the top ranked sector with $100.3 billion, followed by real estate with $69.5 billion, healthcare $58.7 billion and telecom $39.7 billion.
The report further noted that the Asia Pacific (excluding Japan) targeted M&As stood at $ 161.4 billion, down 34% from the first quarter of 2015, when transactions worth $ 244.7 billion were announced.
"Aside from the decrease, this is the third highest first quarter volume on record behind 2015 ($244.7 billion) and 2014 ($175.7 billion)," the report added.
Meanwhile, the global cross-border M&A volume of $ 302.6 billion is just behind the first quarter record high of $314.6 billion in 2015.
ChemChina's proposed $ 48 billion cash offer for Syngenta, announced on February 3, 2016, is one of the largest cross-border deals on record and is the largest Agribusiness targeted M&A transaction on record.
"Chinese companies were behind five of the top 15 cross-border deals announced in 2016, four of them with US targets, led by the $14.7 billion bid for Starwood Hotels & Resorts Worldwide by AnBang Insurance," the report said.
In terms of M&A advisory ranking Goldman Sachs topped the chart with $214.2 billion in January-March period, followed by JPMorgan ($153.1 billion) and UBS ($98.7 billion).