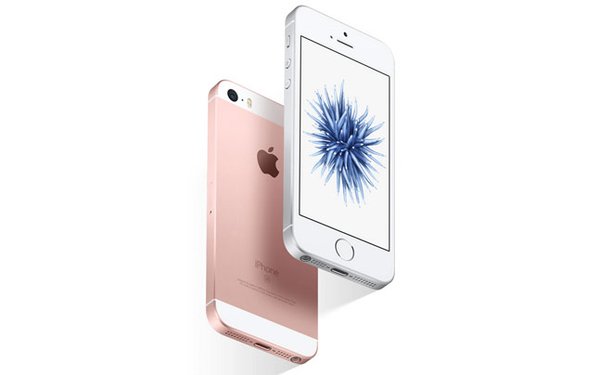 New Delhi: New Delhi: Apple's latest launch of the 4-inch iPhone SE packs similar features of Apple's flagship iPhone 6S despite its small size.
The iPhone SE flaunts a 4-inch Retina Display, and is powered by an A9 processor paired with an M9 co-processor.
In terms of photography, the iPhone SE is equipped with a 12-megapixel iSight camera with support for Live Photos and 4K video recording capabilities. Up front, there is a 1.2-megapixel FaceTime camera with Retina Flash. It runs the updated iOS 9.3 operating system.
Both the devices have Live Photos, Touch ID, NFC and Hey Siri, but there are features missing in the iPhone SE against Apple's flagship iPhone 6S.  
Screen Size: The iPhone SE features a 4-inch screen, while the iPhone 6S has a 4.7-inch screen and the iPhone 6S Plus has a 5.5-inch screen.
Although there are some amazing features in the small iPhone making it a powerful handset, a smaller screen means fewer pixels. However, the pixels-per-inch figure remains the same between the iPhone SE and 6S, at 326ppi, and Apple has not compromised with the display quality.
3D Touch: 3D Touch is perhaps the biggest miss in the iPhone SE. People will not be able to use pressure-sensitive gestures to access shortcut menus as on the iPhone 6S and 6S Plus.
128GB capacity: The iPhone SE is available in two storage capacities: 16GB and 64GB and misses out the 128GB variant. With the iPhone 6S and 6S Plus models, users can opt for a larger 128GB capacity.
High quality front camera: The iPhone SE features the same 12-megapixel rear camera as the iPhone 6S, but has not maintained the selfies quality. The iPhone 6S has a 5-megapixel front-facing camera, and the iPhone SE offers only 1.2 megapixels.
High contrast ratio: The smaller display of the new iPhone also offers a lower contrast ratio than the iPhone 6S.
Also, Apple iPhone SE will be available in India soon. According to Redington, Apple's official distributor in India, it will start selling the iPhone SE across 3000 retail outlets in the country, from April 8, Friday. Online retailers and operators are also expected to carry the iPhone SE.
The new iPhone SE will be available for pre-order starting from March 29, i.e., next Tuesday. This will probably be the fastest launch of an iPhone in India.
Along with the Apple iPhone SE, Apple also launched an ultimate "PC replacement", iPad Pro, which is a 9.7-inch device.
It will go on sale in select countries from March 31, and will be launched in India sometime in early April. The new iPad Pro is available in three storage variants.
The 32GB variant is priced at $ 599 (approximately Rs 39,800), 128GB variant is priced at $749 (approximately Rs 49,800), and the 256GB variant costs $899 (Rs 59,800 approximately).