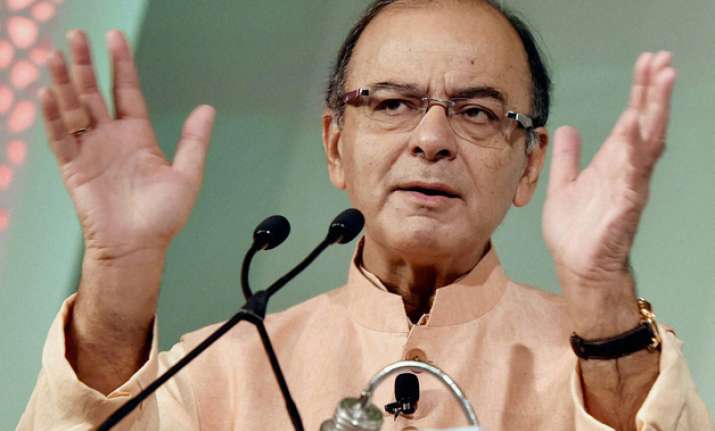 New Delhi: Finance Minister Arun Jaitley today said that 'it would be difficult to accept the Congress party's demand to cap Goods and Services Tax (GST) rate in a constitution amendment bill stuck in the Rajya Sabha'.
"Some of the UPA (United Progressive Alliance) partners told me they will support GST," he said, adding: "I would still like the Congress to come on board."
The proposed sales tax, India's biggest revenue shake-up since independence in 1947, seeks to replace a slew of federal and state levies, transforming the nation of 1.2 billion people into a customs union.
The Congress party has opposed the bill, calling it 'flawed'. The Congress has been demanding that the government do away with the proposed additional 1% levy on the supply of goods, capping the GST rate at 18%, and its inclusion in the constitutional amendment bill along with creation of an independent dispute resolution mechanism.
The GST Bill is pending clearance in the Rajya Sabha where the ruling BJP-led NDA lacks numbers. After its passage in the Upper House, the Bill has to be ratified by at least 50 per cent of the states which in itself is a time-consuming exercise. The states subsequently need to pass their respective GST laws to implementing the new tax regime.
Jaitley further conceded that double-digit growth in the current global environment would prove difficult for India, but said if pending reforms were addressed, it would have the necessary economic impact.
"In the current global environment, realistically speaking, it is extremely difficult to achieve double digit growth," Jaitley said, adding that "it was important to aim higher and continue with reforms to get the desired results".
The Finance Minister said agriculture has the maximum potential to grow in India. He didn't just mean pure farm incomes, but included in it what comes out of the rural economy like milk production.
"Some of the states have seen huge amount of growth in agriculture," he said.