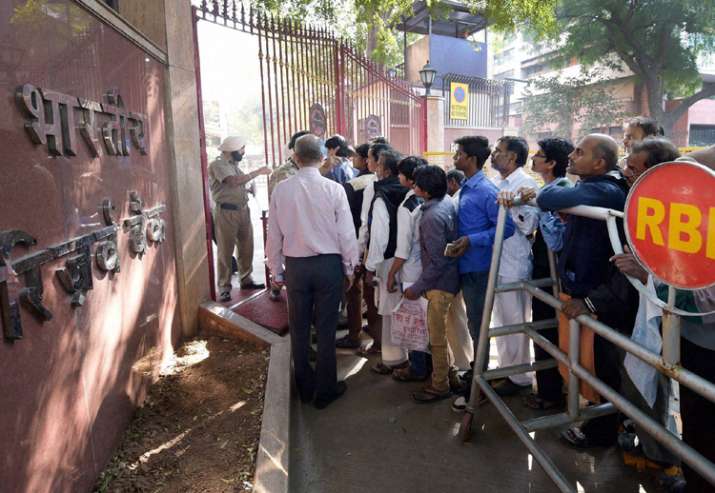 In a rather unexpected move to absorb excess liquidity generated by the surge in deposits following demonetisation of Rs 500 and Rs 1000 notes, the Reserve Bank of India on Saturday announced an incremental cash reserve ratio (CRR) of 100 per cent for banks, ordering them to deposit their extra cash with the central bank.  
The move, primarily aimed at curtailing the liquidity, could also delay lowering of interest rates, against expectations that the central bank would cut interest rates by 25 to 50 basis points at its next policy review scheduled for December 7. 
"There would be marginal impact on banks and hence the costs could rise as they earn no interest on the money kept with RBI, but will have to pay interest on deposits. Banks may cut rates, but (only) after this move is reviewed on December 9," NS Venkatesh, executive director, Lakshmi Vilas Bank told the Hindustan Times. 
Banks will have to pay a minimum interest rate of 4 per cent on all deposits which will increase costs to the bank. 
RBI has asked banks to set aside 100 per cent of the deposits between September 16 (weeks before the end of the income disclosure scheme) and November 11 (three days after the currency delegalisation was announced) as incremental cash reserve ratio balance with it. 
RBI, however, said it was a "purely temporary measure" and will be reviewed on December 9. 
The move will lead to over Rs 3 trillion outflow from banks and is likely to impact interest rate transmission, a report by CRISIL has cautioned. 
"The higher CRR is applicable on incremental deposits, which would mean deposits of nearly Rs 3 trillion that accrued to banks between September 16 and November 11 will be impounded by RBI," Crisil said in a note here today.  
The immediate impact of this step is seen to cause liquidity to tighten and send bond yields higher with ripple effect on interest rate transmission. 
"Banks could delay cutting their lending rates, given that they have promised at least 3-4 per cent interest rate to savings account depositors, but will be not be receiving any interest on the deposits impounded for CRR," Crisil noted.  
Crisil further said RBI's prognosis on growth downside due to the demonetisation will be a key factor in deciding repo rate at December 7 policy review meeting.  
Meanwhile, Wall Street brokerage Citi in a report said the CRR move would have been driven by three factors. 
First, the surplus in the banking system at Rs 5 trillion was inching closer to the maximum absorption capacity of RBI. The central bank had Rs 7.5 trillion of G-Secs prior to the demonetisation drive that acts as collateral to absorb banking system surplus through the reverse repo window.  
"RBI's estimate of deposit accretion going forward might have prompted them to announce a large CRR hike which would obviate any discussion around RBI running short of G-Secs," Citi said in a report.  
Second, the report said, the process of putting in place other liquidity absorption measures like issuance of market stabilisation scheme (MSS) bonds was taking time, as mentioned by RBI Governor Urjit Patel.  
Issuance limit of MSS bonds for this year was set at Rs 30,000 crore earlier which Citi felt was too small given the liquidity absorption requirement.  
It said the strong action could also be aimed at signalling RBI's reluctance on market interest rates falling too sharply, too soon in the present global context.  
"The surplus rupee liquidity and sharply falling rates were also creating distortions in the forward premia and indirectly impacting the spot dollar-rupee rates," the report said, adding that the measure could reverse some of these distortions.