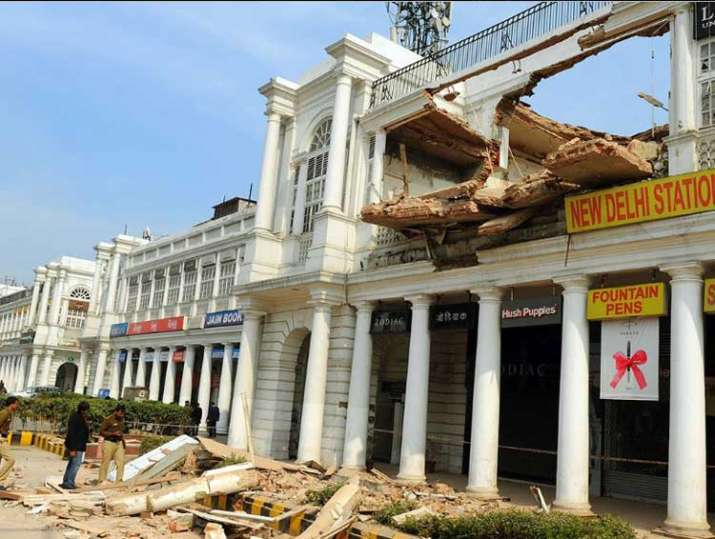 The sealing of 21 rooftop restobars in Connaught Place has not gone down well with the restaurant owners who are now planning to protest against the decision of the New Delhi Municipal Council (NDMC). 
The civic body had last week sealed the 21 restobars in the commercial hub after the roof of a vacant room in C-Block collapsed, raising questions about the structural stability of other buildings in the iconic market. 
"There is no connection between the collapse and the rooftop restaurants. The concept of such restaurants can't be simply done away with. We understand that safety is a primary concern, but there should be a policy and NDMC can issue the licences after checking structural stability certificates," said Riyaaz Amlani, President, National Restaurant Association of India. 
"We are going to protest against NDMC's decision and demand that the restobars be allowed to function," he said. 
The sealed establishments include My Bar Headquarters, Warehouse Cafe in D-block, The Vault Cafe in F-block, Kinbuck-2 and Kitchen Bar in C-block, Lord of the Drinks, Open House Cafe, Jungle Jamboree, Boombox Cafe, Farzi Cafe, House of Commons, Hotel Palace Heights, Office Canteen Bar, Luggage Room, Cafe OMG, Unplugged Courtyard, Barbeque Nation, TC Bar & Restaurant, Teddy Boy Restaurant and The Niche Restaurant and Cafe Public Connection. 
This was not the first time the civic body acted against use of terraces. In 2015, it had sealed the roofs of 13 restaurants, after which they signed affidavits saying they would adhere to rules. 
Priyank Sukhija, the owner of Warehouse and Open House Cafe, said, "The sealing was just part of NDMC's attempt to curtail the crowd coming to Connaught Place before they roll out the vehicle-free plan." 
Ajit Ajmani, the owner of MyBar Headquarters, said that though the civic body had issued prior notices to them warning against use of terrace and balconies they haven't violated any norms. 
According to NDMC officials, terrace or balconies in heritage buildings cannot be used for any kind of commercial activity. 
The civic body has also decided to conduct a survey of all "dangerous" buildings in the area by end of this month to avoid any mishap and formulate a policy to regulate structures installed on rooftops in commercial centre.
 
NDMC had last week formed a six-member panel, comprising structural safety experts from IIT-Delhi, Central Public Works Department, NDMC and the Sub-Divisional Magistrate of the area to inspect the site and ascertain the reason behind the collapse. 
Meanwhile, another roof of a building at Connaught Place collapsed on Saturday night. 
The single-storey building had been lying vacant for a decade and no injury has been reported in the incident, the police said.  
The building situated in L block in Middle Circle of Connaught Place caved in around 9 PM, police said. 
(With PTI inputs)