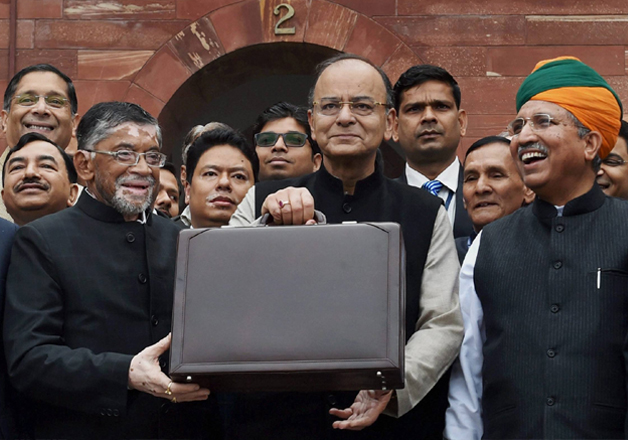 The Union Minister for Finance and Corporate Affairs, Arun Jaitley while presenting the General Budget 2017-18 in Parliament today informed that the total allocation for infrastructure development in 2017-18 stands at Rs. 3,96,135 crores.
In the road sector, the Budget allocation has been stepped up for Highways from Rs. 57,976 crores in BE 2016-17 to Rs. 64,900 crores in 2017-18.
Further, 2,000 kms of coastal connectivity roads have been identified for construction and development to facilitate better connectivity with ports and remote villages.
The FM in his Budget Speech, stated that the total length of roads, including those under Pradhan Mantri Gram Sadak Yojana (PMGSY), built from 2014-15 till the current year is about 1,40,000 kms which is significantly higher than previous three years. Further, Jaitley informed that a specific programme for development of multi-modal logistics parks, together with multi modal transport facilities, will be drawn-up and implemented that will make our economy more competitive.
Speaking on upgradation of Civil Aviation infrastructure, Jaitley said that the Select airports in Tier 2 cities will be taken up for operation and maintenance in the PPP mode. Further, Airport Authority of India Act will be amended to enable effective monetization of land assets. The resources, so raised, will be utilized for airport upgradation. For transportation sector as a whole, including rail, roads, shipping, the Budget provides Rs. 2,41,387 crores in 2017-18. This magnitude of investment will spur a huge amount of economic activity across the country and create more job opportunities, the Finance Minister said in his Budget speech.
Calling Telecom sector as an important component of the infrastructure eco-system, Jaitley noted that the recent spectrum auctions have removed spectrum scarcity in the country. This will give a major fillip to mobile broadband and Digital India for the benefit of people living in rural and remote areas. Further, for the BharatNet Project, the allocation has been stepped up to Rs.10,000 crores in 2017-18 and 1,55,000 kms of Optical Fiber Cables have been laid. Jaitley informed that by the end of 2017-18, high speed broadband connectivity on optical fiber will be available in more than 1,50,000 gram panchayats, with wifi hot spots and access to digital services at low tariffs. A DigiGaon initiative will be launched to provide tele-medicine, education and skills through digital technology, he added.
The Finance Minister further stated that the Government is creating an ecosystem to make India a global hub for electronics manufacturing. Over 250 investment proposals for electronics manufacturing have been received in the last 2 years, totaling to an investment of Rs.1.26 lakh crores. A number of global leaders and mobile manufacturers have set up production facilities in India, hence the Finance Minister said that allocation for incentive schemes like M-SIPS and EDF have been exponentially increased to an all-time high of Rs. 745 crores in 2017-18. Further, a new and restructured Central scheme, namely, Trade Infrastructure for Export Scheme (TIES) will be launched in 2017-18 to focus on our export infrastructure in a competitive world.