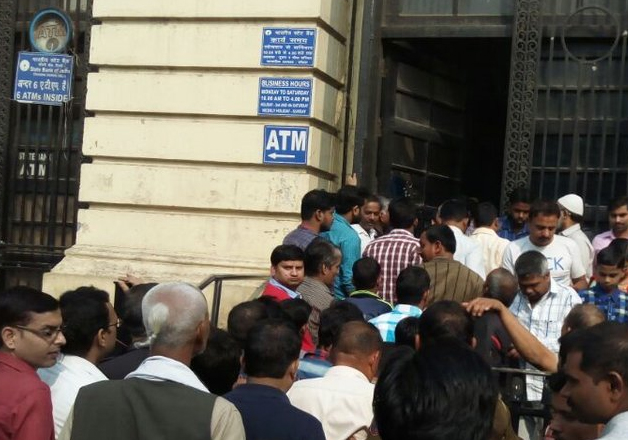 Long queues were seen outside banks, post offices and several Reserve Bank of India (RBI) counters across the country as people rush to deposit and exchange their old Rs 500 and Rs 1,000 notes.
The banks, post offices and RBI counters today resumed public dealing two days after the government, in a revolutionary move, scrapped Rs 500 and Rs 1,000 notes to fight black money. However, the ATMs will be functional from tomorrow. 
Additional arrangements in order to handle heavy rush for depositing and exchanging notes have been made at all bank branches. Also banks have been asked to be open on weekends including Sunday to deal with the situation.
While the private sector banks will operate between 8 am to 8 pm, the government-run banks will work between 10 am and 6 pm. 
Also, the new Rs 500 and Rs 2,000 notes will be made available at all ATMs from tomorrow. Banks are making the necessary changes in machines so that the ATMs can dispense Rs 50 notes as well, in addition to the Rs 100 notes.
Banks in several cities have already started issuing new notes.
SBI Chairperson Arundhati Bhattacharya informed that the bank will be giving out more of Rs 100 rupee notes. 
"We have received some amount of notes of Rs 2,000 denomination. Wherever we have got them, they will be distributed. But notes of Rs 2,000 will be given at branches, but not ATMs. The SBI ATMs will be operational from Friday. We are doing evacuation of ATMs and then we will have to put in fresh notes and reconfigure the machines," she said.
"We don't have enough stock of Rs 2,000 notes. But Rs 100 notes are enough. They were not much in demand till now," she added.
Hyderabad: People queue up outside banks to deposit/exchange Rs 500/1000 notes (in pics: People pose with the new Rs 2000 currency notes) pic.twitter.com/jHdHh4CXNT

— ANI (@ANI) November 10, 2016
People who are visiting the bank to exchange the demonetised currency notes will have to fill a form and submit an identity proof for the purpose. 
Government has also set up control room 22602944 to attend to queries regarding currency.
The Reserve Bank of India (RBI) on Wednesday announced that all banks will remain open on upcoming Saturday and Sunday. Earlier, it was speculated that two-day off at banks, followed by a second Saturday, Sunday and Guru Nanak Jayanti will affect the process. 
Following are the RBI guidelines regarding deposit or exchange of old Rs 500 and Rs 1,000 notes: 
1. Public can deposit Rs 500, Rs 1000 notes at bank branches and the amount will be credited to their bank accounts. There is no limit on deposit of the Rs 500 and Rs 1,000 notes in bank accounts.
2. Public can also exchange Rs 500 and Rs 1000 notes at banks only after submitting identity proof like PAN Card, Voter ID, Aadhar card, Passport etc. 
3. One can only exchange Rs 500 and Rs 1,000 notes of aggregate value of Rs 4,000.
Delhi: Security increased in major bank branches as large number of ppl turn up to exchange Rs 500/1000 notes (Visuals from Chandni Chowk) pic.twitter.com/6ZpkPVD7iY

— ANI (@ANI) November 10, 2016
4. Cash withdrawal from a bank account, over the counter is restricted to Rs 10,000 subject to an overall limit of Rs 20,000 till November 24.
5. If ATMs working, people can only withdraw Rs 2,000 per day till November 18. The limit will be raised to Rs 4,000 per day per card from November 19 onwards. 
It is a good decision taken by govt, we're providing full support to customers & have advised same to every branch: Arundhati Bhattacharya pic.twitter.com/kOWZzPXTkN

— ANI (@ANI) November 10, 2016
6. The amount deposited in bank accounts can be used by cheques or by remitting through various electronic modes of transfer.
7. Cash deposits above Rs 2.5 lakh threshold under the 50-day window will attract tax plus a 200 per cent penalty if there is an income mismatch.
8. After December 30, Rs 500 and Rs 1,000 notes can be deposited at the Reserve Bank of India branches with a declaration till March 31, 2017.
Long queues extending to roads seen in Delhi's Chandni Chowk area as banks reopen for the first time after Govt withdraws Rs 500/1000 notes pic.twitter.com/nwCBiW7sk3

— ANI (@ANI) November 10, 2016
The November 8 late evening decision had initially caused panic as people were puzzled about what to do with their Rs 500 and Rs 1,000 notes. Many also faced difficulties in travelling and purchasing things as sellers were not accepting old notes.