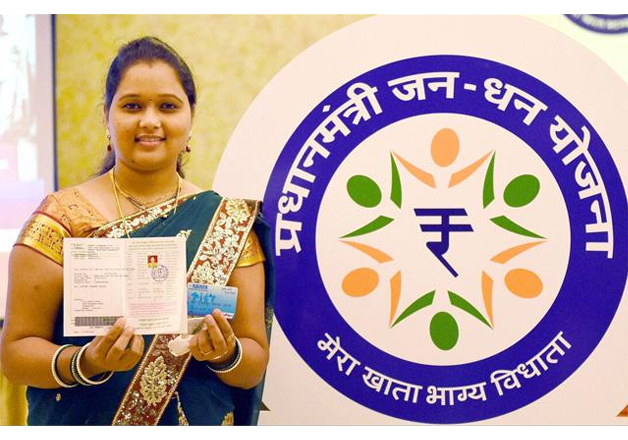 Pressure on banks to show operational accounts under the Prime Minister Narendra Modi's flagship Pradhan Mantri Jan Dhan Yojana (PMJDY) has had a rather weird consequence. 
Banks, in order to show that the accounts opened under the Jan Dhan programme are not lying unused, quietly deposited amounts varying from 10 paise to Rs 10 just to show that the accounts are operational.    
Run by the Department of Financial Services, Ministry of Finance, 1.5 crore bank accounts were opened under this scheme at its inauguration on August 28, 2014. According to official records, till August 31 this year, 24.1 crore bank accounts have been opened with an accumulated balance of Rs 42,094.24 crore.
However, a report in The Indian Express said that the balance deposited in Jan Dhan accounts was not by account holders, but in many cases, by banks because there is 'pressure' on them to show that these accounts are in operation and that zero-balance accounts are falling in number.
The daily claimed to obtained information from more than 30 nationalised and Regional Rural Banks under the RTI Act. 
According to the daily, its investigations showed that bank officials quietly deposited Re 1 in such accounts, either from their own allowances or from money kept aside for maintenance purpose. 
The RTI reply revealed that 18 public sector banks and their 16 regional rural subsidiaries held 1.05 crore Jan Dhan accounts with deposits of Re 1.
The report further spoke to several of these account holders in order to substantiate whether they had made these deposits. However, many of these account holders denied having made any deposit into their accounts and said they had no clue about the deposits.
Banks are doing this to meet their goal to reduce the branch's tally of zero-balance accounts, the report said.
"There was a perception that so many zero-balance accounts means no one is using them, so there was pressure on us to change that," said one bank official on terms of anonymity. 
They are also cases of deposits of Rs 2 or Rs 5, the RTI reply said, adding that in one case reported from Bhopal, 10 paise was transferred just to show that the account is in operation.
The top three banks which applied this one-rupee trick to meet the targets are Punjab National Bank, Bank of Baroda and UCO Bank. 
As per the statistics, while PNB opened 1.36 crore Jan Dhan accounts, Bank of Baroda and UCO Bank opened 1.4 crore and 74.6 accounts, respectively. 
The PNB deposited Re 1 in 39.57 lakh such accounts where as Bank of Baroda deposited Re 1 in 12.97 lakh accounts. UCO Bank deposited the same amount in 11.06 lakh accounts.
Punjab and Sind Bank, which currently has the least number of zero-balance accounts (0.40%), refused to provide details of Jan Dhan accounts with Re 1-Rs 10 in deposits, the report said.
The RTI further stated that with this one-rupee trick, the number of zero-balance accounts has fallen sharply from 76 per cent in September 2014 to almost 46 per cent in August 2015, then a steady fall to 24.35 per cent on August 31, 2016.