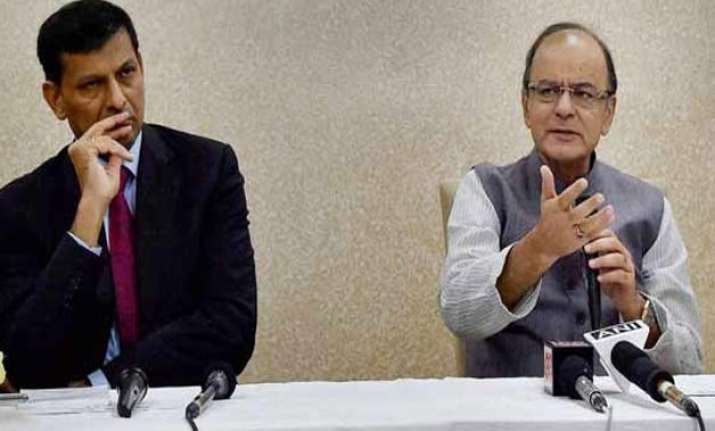 New Delhi: Government and RBI were today on the same page cautioning against overstating bad loan crisis in banks lest it hampers the lending operations, while markets regulator Sebi barred wilful defaulters from raising public funds and taking control of listed firms, as a controversy raged over massive default by Vijay Mallya.
Finance Minister Arun Jaitley and RBI Governor Raghuram Rajan made it clear that misdemeanors and criminal action cannot go unpunished.
The two were speaking to the media after Reserve Bank's Board Meeting here attended by the Finance Minister as a post Budget tradition in which they discussed the need to clean up the banks balance sheets.
"We don't want to create a situation where we overstate the crisis and in the process, the whole activity of lending for growth itself starts suffering because people become extraordinarily defensive. We don't want to reach that situation.
"So its that limited category where there is some kind of a prima facie misconduct or misdemeanor, which has taken place by the individual. Its those areas which will be looked into differently," Jaitley said.
Echoing similar views, Rajan said there is a need to be "careful" going forward, so that criminal actions are penalised, but there is no "broad fishing expedition which then becomes a reason for banks to get worried about making loans which then hamper the recovery and hamper the absolutely important infrastructure investment that have to take place".
"So as a country, as a system, we have to draw that balance very carefully and we are hopeful that we can manage that," he said.
The gross Non Performing Assets (NPAs) of the public sector banks (PSBs) increased from 5.43 per cent as on March 2015 to 7.30 per cent as on December 2015. Gross NPAs of PSBs increased from Rs 2,67,065 lakh crore in March to Rs 3,61,731 lakh crore in December.
On the same day, markets regulator Sebi, whose board was also addressed separately by Jaitley today, announced a multi-pronged clampdown on 'wilful loan defaulters', by barring them from raising public funds, as also from taking control of listed firms and holding board positions -- a move that would disqualify beleaguered Mallya from various posts.
Besides, such defaulters -- including individuals and the companies as well as their promoters and directors -- would be debarred from setting up or being associated with the market entities like mutual funds and brokerage firms.
Sebi is also mulling making it mandatory for listed companies to disclose their bad loans if they breach certain thresholds set by the banking sector regulator RBI.
Sebi Chairman U K Sinha also announced measures to enhance surveillance actions in the marketplace and to check financial frauds, including by making it mandatory for listed firms to disclose impact of lapses flagged by the auditors.
The measures to choke funding avenues for wilful loan defaulters assume significance in the wake of a raging controversy over UB Group Chairman Mallya, who has left the country amid continuing efforts by banks to recover dues totalling over Rs 9,000 crore of unpaid loans and interest.
Mallya recently resigned as Chairman and Director of United Spirits Ltd as part of a sweetheart deal with the company's new owner Diageo -- a deal which itself is under Sebi's scanner. He, however, remains on board of various other companies including of his UB Group as also a few others including Indian subsidiaries of some multinational firms.
Sebi Chairman said the new rules on restraining wilful defaulters would come into effect immediately after they get notified and would apply to all listed firms, as also to their promoters and directors.
While refusing to comment on any individual, Sinha said the new rules are likely to be notified within a few weeks.
These restrictions would apply to every individual and company declared as wilful defaulter as per RBI norms.
"If somebody is declared by RBI, or by other orders, that he is a wilful defaulter, then it is very risky to allow that person, or company to raise money from retail persons in the market," Sinha said.
"They will not be allowed to raise money from the market. They will also be debarred from taking any position in a listed company. Such persons will also be declared not fit and proper under various intermediary regulations," he added.
An individual or a company is declared 'wilful defaulter' for deliberate non-payment of the dues despite adequate cash flow and good net worth and for siphoning off funds to the detriment of the defaulting unit, among other factors.
RBI had approached Sebi to put curbs on fund-raising activities of wilful defaulters, after which the capital markets regulator also started a public consultation process.
The decision follows discussions between various regulators and government departments to tighten the regulatory noose on wilful defaulters, especially in the wake of many such cases coming to fore in recent months.
Sebi said any company or its promoters and directors categorised as wilful defaulters would not be allowed to take control over other listed entity.
However, if a listed company or its promoters or directors are categorised as wilful defaulter, and there is a takeover offer in respect of that listed company, they may be allowed to make competing offer, the regulator added.