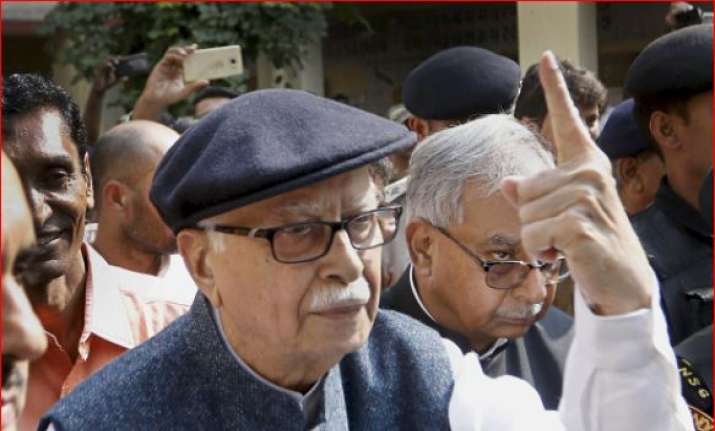 Veteran BJP leader L.K. Advani on Thursday hailed the Union Budget presented by Finance Minister Arun Jaitley and complimented Prime Minister Narendra Modi for "pursuing growth with a human face".
"Overall, the Budget makes me happy to see that my party, the BJP, is pursuing economic growth with a human face. I am sure India is headed towards a brighter future," Advani said in a statement.
He also complimented both Modi and Jaitley for presenting a budget that "combines ambition and empathy of almost an unprecedented order."
"I cannot recall any Budget in the past that set such high goals, targets and commitments for the growth of all sectors of the economy and also for securing people's welfare. I compliment the Prime Minister and the Finance Minister for making India and the BJP proud," he said.
Commending the government for its announcement to unveil the 'Ayushman Bharat' scheme, which aims at ensuring health protection through an insurance scheme covering nearly 50 crore Indians, providing them up to Rs 5 lakh per family per year, Advani said: "This is the world's largest health insurance initiative. Until now, 'Health for All' was more or less a slogan. Now it will become a reality."
He said the budget has many other innovative provisions that address the needs and concerns of farmers, small and medium enterprises, women, senior citizens and youth. 
"I am especially happy to see the sharp focus on improving the quality and learning outcomes in the school education system.
"These commitments cumulatively show that India has a government that cares for the poor and the needy and is faithful to the philosophy of 'Antyodaya' that was propounded by Pandit Deendayal Upadhyaya," he said.
Advani, who was present in Lok Sabha during Jaitley's speech, said the Budget also seeks to accelerate the rate of growth of the economy, so that India, which has already become the seventh largest economy in the world, rises higher to become the fifth largest within the next few years.
Advani also patted Jaitley's back in the Lower House minutes before he was slated to deliver his Budget speech.