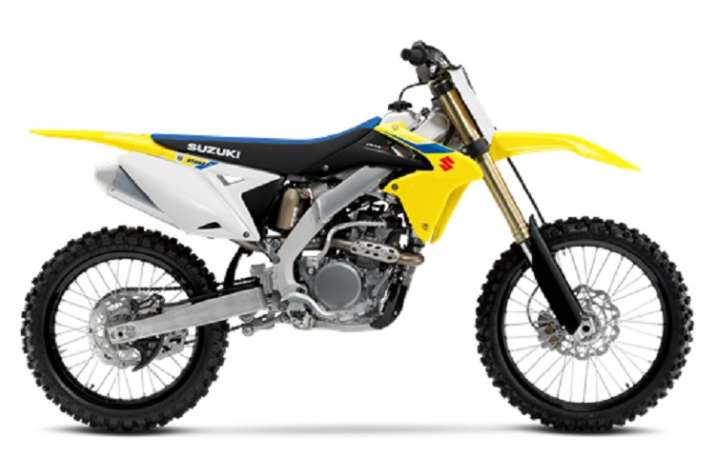 Suzuki Motorcycle India Wednesday launched its global flagship bikes - RM-Z250 and RM-Z450 - in India priced at Rs 7.10 lakh and Rs 8.31 lakh, respectively (ex-showroom Delhi).
"Over the past few years, we have witnessed a great spur in the off-roading and adventurous riding experiences among Indian riders," Suzuki Motorcycle India Managing Director Satoshi Uchida said in a statement.
"Paying attention to this rising demand in the racing and adventure category, we are thrilled to launch these purpose-built motorcycles," he added.
Brief about RM-Z250 and RM-Z450
RM-Z250
The championship-caliber 2018 Suzuki RM-Z250 has been carefully developed to deliver a high level of performance by incorporating a variety of features originally created for Suzuki's factory race bikes. The competition-proven Suzuki Holeshot Assist Control (S-HAC) gives riders the best shot at grabbing the holeshot on a wide variety of track conditions, and the specialized KYB PSF2 Pneumatic Spring fork provides both easy adjustability and outstanding action to give the RM-Z250 more precise handling than ever. The remarkable KYB rear shock and the well-sorted aluminum twin-spar frame ensure the razor-sharp handling Suzuki's are famous for.
RM-Z450
The 2019 RM-Z450 remains the champion's choice, as its sleek, race-ready appearance, strong engine, and nimble chassis continue the Suzuki tradition of extraordinarily precise handling.
The RM-Z450 epitomizes Suzuki's Winning Balance philosophy with strong brakes for controlled stopping power, a wide spread of engine muscle with high peak power, and a strong, light, and more nimble chassis that remains the class standard for cornering performance.
( With Inputs from Suzuki and PTI )