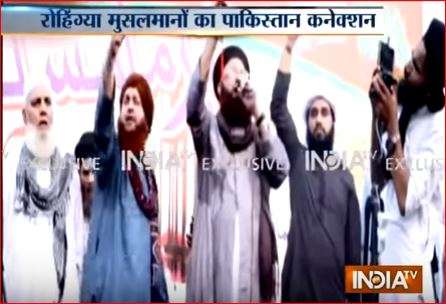 Already the jihadi groups in Pakistan are girding up their loins to take 'revenge' for the atrocities committed on Rohingya Muslims in Myanmar. Hate speeches are already being made at mosques in Pakistan and terror conspiracies are afoot. I had made it very clear that there are some extremists among Rohingya Muslims, who have contacts with terrorists in the subcontinent. 
Already we, as a nation, have many problems, and we need add one more problem from our neighbours. It is also true that the issue of stateless Rohingyas need to be seen from the prism of humanity, and every country should help these unfortunate people. But helping them does not mean that Rohingya Muslims should be allowed to settle in India. Our first attempt should be: to speak to the Myanmar government to ensure that conditions improve in Rakhine state, where most of the Rohingyas live.
We can provide them humanitarian aid like food, medicines, etc, but allowing them to settle in India will not be a wise step. I, therefore, support our government's stand which was amply made clear by the Home Ministry in its affidavit before the Supreme Court on Monday.
Watch the full episode here:
Aaj Ki Baat: Monday to Friday, 9 PM
India's Number One & the most followed Super Prime Time News Show 'Aaj Ki Baat – Rajat Sharma Ke Saath' was launched just before the 2014 General Elections. Since its inception the show is redefining India's super prime time and is numerically far ahead of its contemporaries.