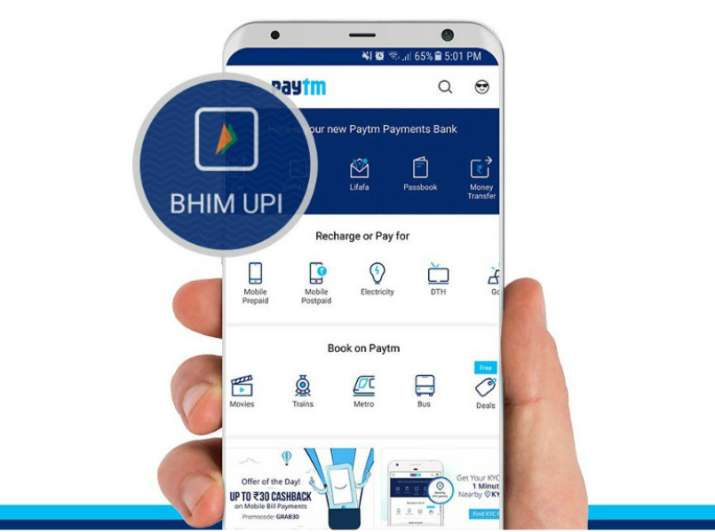 In a big push to the government's cashless push that gained prominence after the demonetisation decision a year ago, popular payments app Paytm on Tuesday announced support to the government-backed United Payments Interface (UPI) feature, a move that will facilitate seamless transactions for its users through the in-app UPI feature.
The integration of the UPI interface on its app will allow Paytm users to send and receive money after creating their own Paytm BHIM UPI id to be issued by the Paytm Payments Bank.
Paytm emerged as one of the biggest beneficiaries of the government's note ban decision, with people flocking to digital payments in near absence of cash.
Paytm's UPI integration will provide a big push to the government's own UPI platform BHIM. Paytm commands leadership in the digital wallets space with 280 million users, more than 100 million app installs and five million offline merchant partners.
The facility has currently been rolled out for Android users while it will be extended to iOS in the coming days.
To use the facility, Paytm users can either create their Paytm BHIM UPI id or link their existing UPI id with other banks to Paytm.
"Paytm users can link any of their savings bank account with a unique Paytm BHIM UPI ID and start sending & accepting money. Paytm BHIM UPI IDs are being accepted across all banks and BHIM UPI apps," the company said in a release.
Here is a step by step guide to making UPI payments on Paytm:
Click on the BHIM UPI icon on the home screen of the Paytm app. The icon is placed next to the passbook and pay options on the home screen. Update App if you cannot see the icon on your Android phone.
The app will auto generate a unique Paytm ID that is linked to your registered phone number.
Link your bank account with the Paytm UPI ID provided. Paytm will automatically fetch details if your bank account has been linked with your registered mobile number.
The app will create a unique UPI QR code. There are three options – send money, request money and scan & pay, which are self-explanatory.
You can send money to anybody by entering their UPI ID, bank account or Aadhaar details. Enter the bank account you want to transfer the money.
Enter bank credentials such as account number, IFSC code and the amount to transfer.
Verify the payment by tapping confirm button on the screen to complete your payment.
Since demonetisation, UPI payments have shown a steady surge, growing by as much as 77 per cent since November last year.
As per the National Payments Corporation of India (NPCI), as many as 76.96 million transactions were made in October via UPI, up from 30.98 million in September.