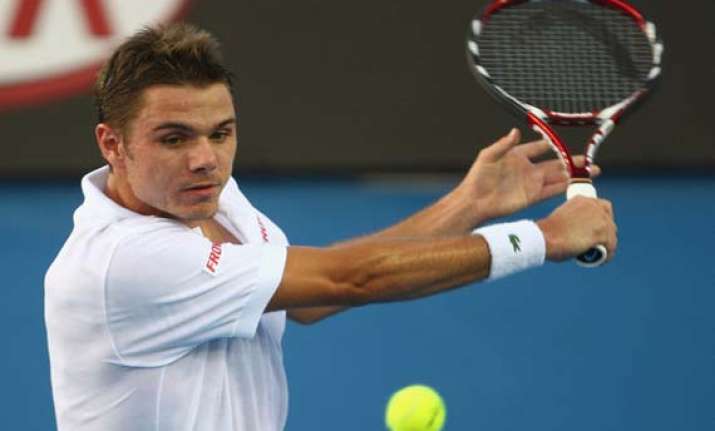 Chennai, Dec 24: World No.17 tennis player Stanislas Wawrinka is one of those players who couldn't be happier to start the New Year with the Aircel Chennai Open.
In 2011, Wawrinka won his third career ATP World Tour title in Chennai and has been choosing the tournament to kick start the New Year.
The 27-year-old Swiss national has witnessed South Asia's only ATP World Tour tennis event grow from strength to strength into the $430,000 event it is now.
"The tournament has become huge over the years and it's great to see how amazing it gets from year to year," said Wawrinka.
"I adore the spectators and preparing for Chennai has a very relaxing feeling to it. Support from the crowds is probably the main reason I come back," he said.
Though there are higher ranked players in the draw, Wawrinka is definitely one to watch out for. A player with simple goals, he is focussed on pushing himself to do better than the year before.
The last season was good for Wawrinka. He put up a solid performance in Cincinnati against World No.2 Roger Federer.
Looking forward to a fantastic 2013, the six-footer said he has worked very hard during the off-season and hopes to be in the best form possible.
Deriving pleasure from his game makes a lot of sense to the Swiss who does not worry about aspects like the nature of the playing surface at a tournament. "I don't think about it too much. I just try to get on with it and enjoy my tennis," he said.
Committed to playing the best tennis while on the court, Wawrinka transforms into a caring husband and father off the court. This is evident in the way he expresses his feelings for his family. "I have a baby and she makes every year memorable off-court!" he said while referring while talking about daughter Alexia.
In his free time, the right-hander loves to play table tennis, listen to music and use his play station, and given a chance, would love to play the role of Batman. It is not surprising that five visits to Chennai have taught him a thing or two about India—tandoori chicken has become his favourite Indian dish and Aishwarya Rai
Bachchan the Bollywood actor he likes most.
The Chennai Open begins Dec 31.