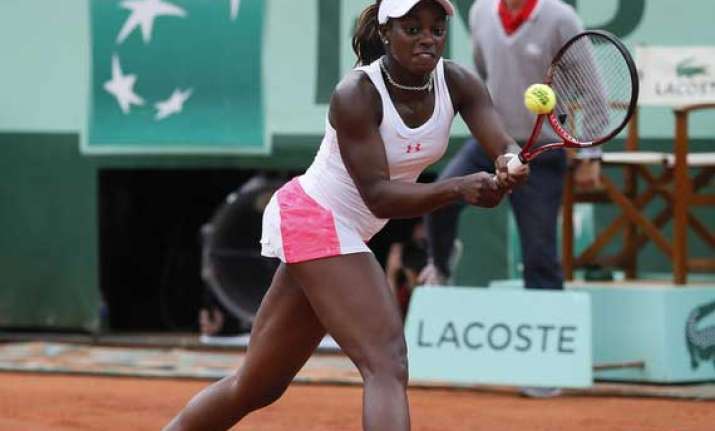 Paris, June 2: Well, that's settled: 19-year-old Sloane Stephens is bumping herself up to first class for the flight home from the French Open, whenever that might be.
That extra-comfy trip back to Florida is among the benefits the American is looking forward to after reaching the fourth round at Roland Garros by beating Mathilde Johansson of France 6-3, 6-2 Friday.
Another perk?
"Now I'm going to have more Twitter followers," explained the bubbly Stephens, the only teenager left at the fourth, and most successful, Grand Slam tournament of her nascent career. "That's good. I'm excited. I mean, it's always good to be noticed and recognized."
She'd better get used to both.
With her ever-improving game, athletic parents -- her late father, John Stephens, played in the NFL; her mother, Sybil Smith, was Boston University's first All-American in women's swimming -- and infectious personality, Stephens might just be the next big thing in U.S. tennis.
Asked what her daughter's greatest strength is, Smith said: "Probably her mental fortitude. She's a really happy-go-lucky kind of person, and she doesn't let things get her down. She's resilient. She's incredibly resilient."
That attribute helped last month, when Stephens was in Europe and struggling a bit.
Something had to change, so she cut out candy and her two-a-day orange soda habit -- "I was like, `Whoa, that's a lot of sugar,"' she said -- and made a key telephone call, asking Smith and an aunt to travel overseas and be with her.
"The only way to go was up. So my mom came, and my aunt came, and that helped me a lot, because I don't know what was going on. ... I was having brain farts and things weren't going my way," Stephens said. "I was being 19, and I think now I am being 29. So I think my mom and aunt definitely helped me through the last couple of weeks. I'm very grateful for that."
She ended a three-match losing streak by qualifying for the Italian Open, where she reached the second round, then got to her first WTA semifinal at Strasbourg.
And now there's a breakout performance at Roland Garros, where the toughest test yet will come when Stephens faces reigning U.S. Open champion and 2010 French Open runner-up Sam Stosur with a quarterfinal berth at stake.
"My goal coming into the French Open was just (to) play hard. I mean, there's nothing else you can do. Play hard, fight hard, you know, run every ball down. Winning or losing, really, it didn't matter," the 70th-ranked Stephens said. "I was kind of like, `I know, if I just do the right things, that good things will happen."'
She gave Johansson all sorts of trouble in the French Open's main stadium, silencing the partisan crowd and putting together a 26-10 edge in winners.
Stephens also broke Johansson in seven of her nine service games.
"She's so powerful. She can hit winners on any type of ball," the 93rd-ranked Johansson said.
"I didn't really know what to do to fight back. She didn't give me any easy points," Johansson added. "I had to fight for each point, each game, and, frankly, I think she was a lot tougher than I was. ... She was quite impressive."
That's a good word to describe Stephens in front of a microphone, too.
After her second-round victory in Paris, Stephens joked about wanting to keep winning because Smith "is spoiled rotten, so she's going to want to fly first class home or something."
When she guaranteed herself about $100,000 in prize money by reaching the fourth round, Stephens said she'll "definitely, definitely" be purchasing a fancier airplane ticket for herself.
As for whether her mom and aunt will be traveling that way, too, Stephens replied with a wink: "I don't know what they're going to be doing, but I know where I'm going to be."