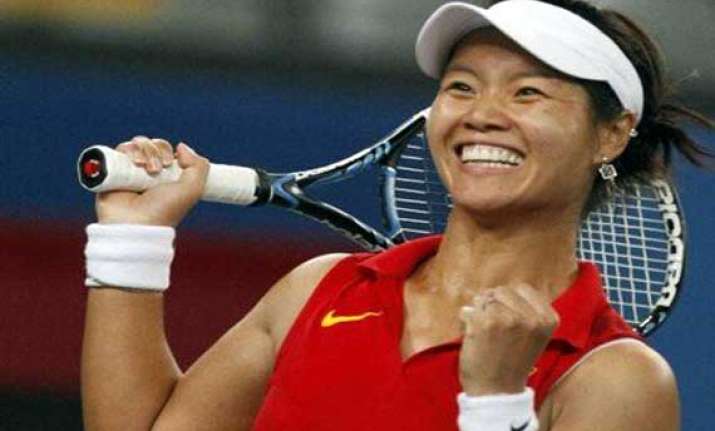 New York: Li Na got her work done quickly Wednesday at the U.S. Open, so when the rain started falling, she had little to worry about.
The fifth-seeded Li defeated Sweden's Sofia Arvidsson 6-2, 6-2 in the day's first match at Arthur Ashe Stadium to advance to the third round. Shortly afterward, heavy rain came and Li's only concern was finding an umbrella.   
"It's tough for them," she said, referring to the 58 players who still had singles matches to complete Wednesday. "For me, just relax all day and do whatever I want."   
Five matches were wrapped up before the rain, including 18th-seeded Carla Suarez Navarro's 6-3, 6-4 victory over American CoCo Vandeweghe and third-seeded Agnieszka Radwanska's 6-0, 7-5 victory over Maria-Teresa Torro-Flor of Spain.   
Radwanska dropped only seven points during a 21-minute first set, but the second lasted 66 minutes. Long, but not too long.   
"Sometimes it's good to play first, even when I have to wake up really early," Radwanska said, referring to the rain.   
Other early winners were 32nd-seeded Anastasia Pavlyuchenkova and, on the men's side, one-time top-10 player Marcos Baghdatis.   
Serena Williams' match was scrubbed from Wednesday's schedule.   
After a rain delay ate up most of the afternoon, tournament officials postponed eight women's singles matches but kept others on the slate, including the night session involving defending men's champion Andy Murray and American Sloane Stephens.   
With the storm bearing down, video monitors around the Billie Jean King Tennis Center warned fans to seek shelter and avoid trees because of potential lightning, though thousands of ticketholders were milling about without much concern for severe weather.   
Many are used to this scene.   
The season's last Grand Slam tournament has finished a day late for five straight years because of rain delays.   
This year, the U.S. Tennis Association announced plans to build a roof over Arthur Ashe Stadium as part of a renovation project that will cost $550 million. The roof could be ready by 2016, or 2017 at the latest.   
Even that wouldn't have alleviated a first-week logjam the likes of which the tournament faced Wednesday, with a full slate of matches in singles along with men's, women's and mixed doubles.   
During a brief halt to the storm, 2009 men's champion Juan Martin del Potro del Potro made it onto the court, earned an early break against Guillermo Garcia-Lopez of Spain, then had to go back to the locker room when the rain returned. Next door, at Armstrong Stadium, Venus Williams played two points against Zheng Jie, then went inside again.   
Li was among the few who could plan on watching those matches from her hotel room.   
"I'm happy," she said. "Because at least I'm done with my job for the day."