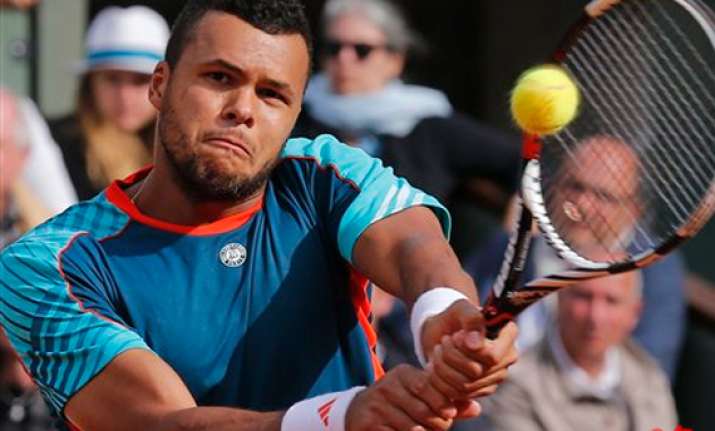 Paris, June 4 : A short day's work hardly felt like it for Jo-Wilfried Tsonga.
The Frenchman returned to Roland Garros on Monday and finished off a five-set victory over Stanislas Wawrinka, winning the last two games of a match that was suspended by darkness the night before.
Tsonga led 4-2 in the fifth when play resumed. But he quickly gave up a break, then had to break back at 5-4 to close out the match. The five sets lasted 4 hours, 6 minutes, most of it played in the dimming light the night before. Still, Tsonga said he felt as if the hardest work came when they restarted on the second straight cloudy, blustery day at Roland Garros.
"I've spent more energy in four games today than in five sets yesterday," he said.
Other winners Monday included 12th-seeded Nicolas Almagro, who defeated No. 8 Janko Tipsarevic of Serbia 6-4, 6-4, 6-4. Another Spaniard, sixth-seeded David Ferrer, wiped out No. 20 Marcel Granollers 6-3, 6-2, 6-0. Ferrer has dropped only 25 games en route to the quarterfinals.
"It's true that in the past four matches, I felt really comfortable. I felt really at ease," Ferrer said. "I think I have to continue this way."
Tomas Berdych and Juan Martin del Potro were back on the court finishing their suspended match from Sunday. Del Potro led two sets to one when darkness halted play.
Others scheduled to play Monday included Rafael Nadal, Maria Sharapova, Andy Murray and Li Na, the only woman left in the field who has won the French Open.
Tsonga is trying to become the first Frenchman to win any Grand Slam tournament since Yannick Noah won at Roland Garros in 1983. On Sunday night, Tsonga was the fan favorite, being serenaded with "Allez Tsonga" by fans, a few dozen of whom waved the French tricolor as the sun went down.
Coming back early Monday was a different story, playing in front of a less fervent crowd and needing to rev up quickly for a match that would be decided within minutes.
"Nerves made the difference," Tsonga said. "You mustn't be shaky, you must remain lucid because things go very fast."
In his first French Open quarterfinal, Tsonga will face No. 1 Novak Djokovic, who is trying to become the first man to win four straight Grand Slam tournaments since 1969. Tsonga has a 5-5 record against Djokovic, with one of the losses coming in the 2008 Australian Open final.
The Frenchman will clearly have the fans on his side, though he's well aware that isn't always enough against a player like Djokovic.
"Novak is the No. 1 player in the world and he plays very well," Tsonga said. "It will be tough but I will give my everything."