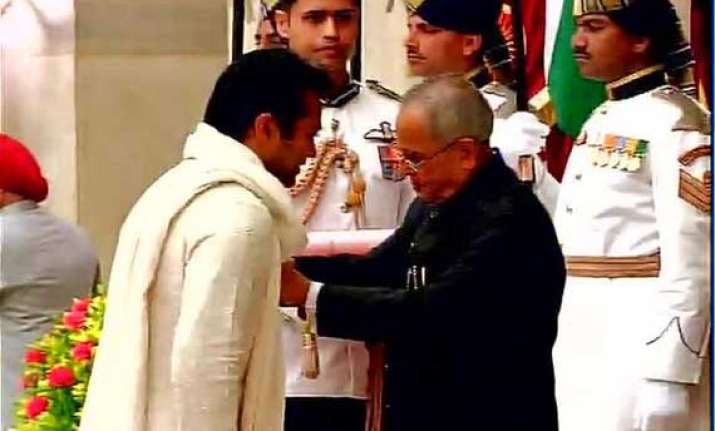 New Delhi: Ace tennis player Leander Paes was conferred India's third highest civilian honour - the Padma Bhushan - by President Pranab Mukherjee at a ceremony at the Rashtrapati Bhavan here Saturday.
Paes was ecstatic at receiving the award and posted several photos on Twitter. He put up two photographs before the ceremony with his parents - Vece and Jennifer - outside the Rashtrapati Bhavan and later on a photo with him sitting and posing with the open scroll and the medallion on his chest.
"Padma Bhushan...Thanks for the years of support everyone!!! The rest is still unwritten...Jai Hind! Padma Bhushan Ceremony,Rashtrapati Bhavan! Nothing like family by my side. I miss my baby, Aiyana... Pre Padma Bhushan Ceremony...29 years of my journey. A proud moment.I miss my motivation & inspiration,my baby Aiyana," tweeted Paes.
The president presented 56 awards including one Padma Vibhushan, 11 Padma Bhushans and 44 Padma Shris.