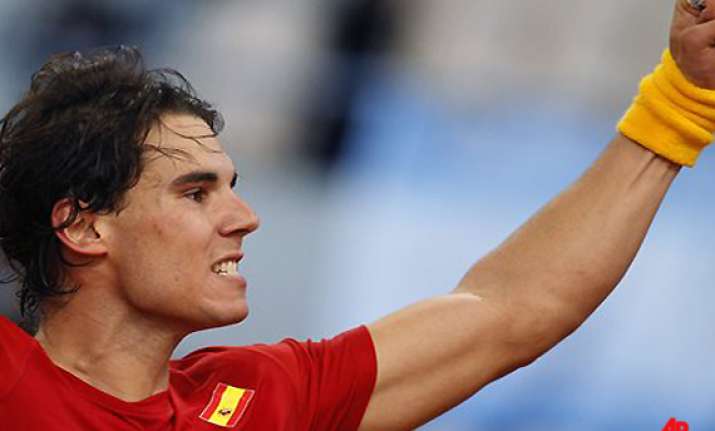 Spain, Dec 4: Spain won its fifth Davis Cup title after Rafael Nadal recovered from a terrible start, holding on to beat Argentina's Juan Martin del Potro 1-6, 6-4, 6-1, 7-6 (0) Sunday to give the hosts an insurmountable 3-1 lead.

Nadal endured his most lopsided set defeat in the competition as Del Potro fired forehand winners at will, with the Spaniard failing to hold his first four serves to trail 1-0, 40-0 by the second game of the second set.

But Del Potro started misfiring and Nadal found his rhythm to break back before finally holding serve.

Nadal caught Del Potro out with one of 35 winners to take the second set and cruise through the third set on course for the win. But a late fightback by Del Potro saw the Argentine break Nadal four times in the fourth set to send it to a tiebreaker, where Nadal raced ahead without losing a point before securing victory with a forehand winner.

Spain's players swarmed their teammate after he had dropped to the ground in celebration, while Del Potro exited the clay surface in tears for the second time in three days after losing Friday's singles to David Ferrer.

"Today is one of the most emotional days of my career," said Nadal, a 10-time major champion who won the title for the third time of his career. "After such a difficult year, this was a spectacular finale to the season. To win a final this way is very special."

Nadal stretched his record on clay to 16-0 as Spain won its third title in four years and remains the only nation to play in four finals and never win one.

It was Spain's fourth title since 2004 when Nadal helped the hosts to victory at the same Olympic Stadium over the Americans.

Del Potro's pinpoint accuracy added to Nadal's nightmare start to give the visitors hope of a first foreign win in Spain since 1999, and of becoming the first team in 72 years to come back from a 2-0 deficit in the Davis Cup final.

Del Potro fired one of his four double-faults to be broken in the opening game, but it was Nadal who showed more nerves as the second-ranked Spaniard's poor drop allowed Del Porto to even.

While Del Potro struggled with his serve throughout, the Argentine overpowered his opponent with a laser-like forehand, cruising to a first set lead behind one of his 44 winners.

Nadal was broken for the fourth time after netting in the first game of the second set, and Del Potro showed his range as an ace and drop shot helped set up 40-0. Nadal had looked lost up to then as Del Potro dispensed winners with ease.

But Del Potro erred to allow Nadal to get to deuce before slapping another forehand wide for Nadal to break.

Nadal played two spectacular backhand passing shots before holding his serve for the first time with a 204 kilometers per hour (127 miles per hour) ace, giving him a 2-1 lead.

Both players held until the 10th game of the second set when Del Potro's forehand again drifted wide for set point to the Spaniard. Nadal sent Del Potro scurrying to save a forehand before smashing the lob return and sending the crowd of over 20,000 fans into wild celebrations as he evened the match.

Del Potro, who let slip a 2-1 set advantage in his near five hours singles loss to Ferrer, was spraying his shots as nerves and fatigue appeared to creep into his game again, with Nadal ripping back-to-back forehand winners down the line to break in the second game of the third set.

Nadal bounced across the baseline to curl a forehand around Del Potro for another break in the fifth game as he took a 2-1 set lead.

With Nadal seemingly on course toward victory, Del Porto came alive in the fourth set as the players traded breaks before a pumped-up Del Potro celebrated Nadal's error to get ahead and have a chance to serve out the set 5-3.

But Nadal broke right back after flicking a forehand past Del Potro and held serve before breaking for the ninth time in the 11th game when Del Porto netted.

The Argentine ripped his 25th forehand winner for an eighth break point to send the set to a tiebreaker, where the Argentine's nerves overcame him as he hit several of his 64 unforced errors and Nadal placed his shots perfectly to take the match in just over four hours.