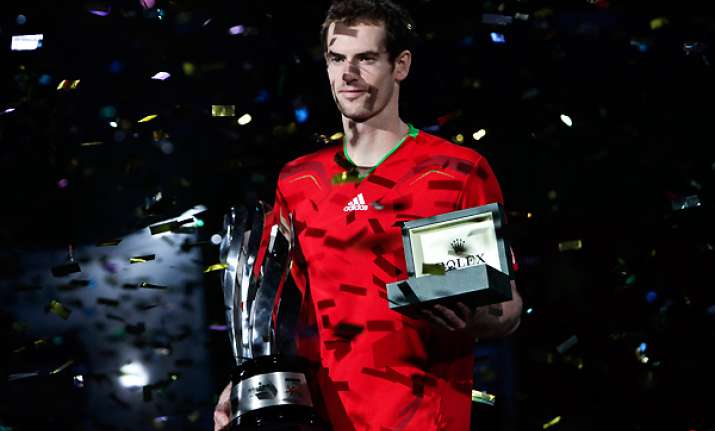 Shanghai, Oct 16: Defending champion Andy Murray defeated David Ferrer 7-5, 6-4 to win the Shanghai Masters on Sunday, ensuring he'll vault past Roger Federer to No. 3 in the ATP rankings.

The Scot, currently ranked fourth, had made finishing the season at No. 3 one of his main goals of the year. It will be the first time Federer has fallen out of the top three since June 2003 -- just before he won his first Wimbledon title.

Murray has been unbeatable during the autumn Asian swing of the ATP tour, capturing consecutive titles in Bangkok, Tokyo—where he beat Rafael Nadal in the final—and Shanghai.

He has also won 25 of 26 matches since mid-August, the only loss coming to Nadal in the semifinals of the U.S. Open.

After accepting the trophy on court, Murray said a few words to the crowd in Chinese.

"Da shi, shi bu ke dang," which roughly translates to "Masters are unstoppable."

The fifth-ranked Ferrer had rallied in his last three matches after losing the first set—saving three match points against Juan Carlos Ferrero in the third round—but he couldn't manage it against Murray, whom he has never beaten on hard courts.

Murray got an early boost by breaking Ferrer's serve in the first game of the match, but the Scot gave the advantage right back by making a string of unforced errors to drop serve in the next game.

Both players then began to find their strokes, engaging in lengthy rallies from behind the baseline with sharply angled forehands and slice backhands—a style of play more suited to Ferrer, the clay-court specialist.

But serving at 5-5, Ferrer hit two shots into the net and then double-faulted—missing the second serve by more than a foot—to give Murray the break. The Scot hit two aces in the next game to close out the set.

Ferrer dropped his serve immediately to start the second set, but again, Murray squandered the break, double-faulting twice to drop serve himself, slamming a ball off the court in anger afterward.

The Spaniard's momentum was halted in the third game, however, when he missed an easy overhead into the net to give Murray another break. He only won five more points on Murray's serve the rest of the way.

Murray and Ferrer are separated by just one place in the rankings, but the Scot was the heavy favorite coming into the match. He had won all four of his previous matches against the Spaniard on hard courts, including two this year—in the semifinals of the Japan Open in Tokyo last week and in the semifinals of the Australian Open.

Murray won his eighth Masters-level tournament overall and his second of the year after Cincinnati. Ferrer was attempting to win his first Masters tournament.